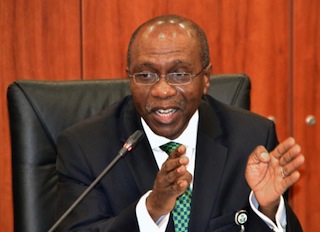 The Central Bank of Nigeria has disbursed additional N39.527 billion to six electricity generating and distributing companies from the N213 billion Nigeria Electricity Stabilisation facility.
The CBN Governor, Mr Godwin Emefiele, announced this on Wednesday in Abuja while distributing the cheques to the companies.
The three distributing companies are Enugu, Kano and Port Harcourt while the generating companies are Egbin, Geregu and Ughelli.
Enugu Distribution Company got N10.25 billion; Kano got N7.638 billion while Port Harcourt got N6.58 billion.
Ughelli generating company received N3.91 billion; Egbin got N5.10 billion and Geregu company had N938.99 million.
"I welcome all of you at the CBN where we are witnessing the disbursement of the second batch of the Nigeria Electricity Stabilisation facility to some Discos and Gencos.
"You will recall that on the second of February, which is less than two weeks ago, we disbursed the first tranche to two Discos – EKo and Ibadan – and three Gencos, Kainji, Jebba and Shiroro.
"At that section, about N18.2 billion naira was disbursed; I am happy to inform you that today, we have moved on to the disbursement for another three Discos of Enugu, Kano and Port Harcourt and three Gencos of Ughelli, Egbin and Geregu," he said.
According to him, N39.5 billion will be disbursed to the six companies, which brings disbursement so far to over N50 billion.
He said that in due time the apex bank would conclude the disbursement of the entire sum not only to the discos and gencos but to all important stakeholders, particularly the gas suppliers.
"We will continue to make public, this process of disbursement as we progress, so that Nigerians can see what we are doing to unlock the potentials in the power sector," he said.
Emefiele said that the facility was meant to catalyse the power sector, adding that the funds would principally be used for the discos to procure metering and certain spares that they needed to improve their business.
This, he said, would help to shore up areas where revenue shortfalls and power shortfalls in the grid were witnessed, adding that it would help to reduce power losses to people's homes and consumers.
"We expect that even by the time the gencos themselves receive their disbursement, the gas suppliers receive theirs, the transmission companies and other important stakeholders in the entire value chain, we will certainly see change in power generation and distribution in the country.
"Like we said earlier, it is a loan that will spread over 10 years period and we would like the discos, gencos, everybody that is important in this value chain to please dedicate themselves towards the successful performance and achievement of the objective."