Funsho Arogundade
Dawn In The Creeks, DITC, the Jeta Amata-led initiative aimed at promoting peace in the country's Niger Delta region, has kicked off its second season in Lagos, Nigeria.
At the official launch attended by friends and partners of DITC, Andre Blaze Henshaw said the second season would leverage on the awareness and excitement generated by its debut season and highlight the gains made so far and the challenges facing the project.
"In our first season, we mobilised the youth of the area to become change agents in a Niger Delta that was, for too long, perceived as a cauldron of degradation, restiveness and mayhem. And while these issues have not been totally eradicated, we can literally see a dawn of peace and hope on the horizon," Henshaw said.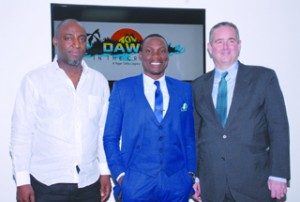 Season 2 follows the 21 young men and women who had enrolled in the Nollywood Academy as they juggle their studies with their roles as peace ambassadors in their communities as well as leaders among their peers.
"The crusade for a more peaceful and prosperous Niger Delta will not be embraced immediately by all but they would have to keep at the vision that only is it possible but has become necessary for their communities to be freed from a past riddled with poverty and despair," he added.
Among the friends and partners present at the launch was the US Consular General in Nigeria, Ambassador Jerry Hawkins, who was full of praise for the initiative and pledged the continued support of the American government.
"The U.S. Mission partnered with a distinguished group of Nigerian leaders to give the people of the Niger Delta platforms like the Dawn Tn The Creeks reality TV show and weekly radio programmes, to share non-violent solutions to problems with their fellow Nigerians as well as with local, state and national authorities," Hawkins said.
He hinted that improving the relationship and accountability between the government and its citizens will go a long way to ensuring the future remains promising for the region.
As in its maiden season, DITC2 will feature notable figures from the Nigerian entertainment industry serving as mentors and facilitators for the Change Agents and is scheduled to air on select TV stations across the country.

Load more