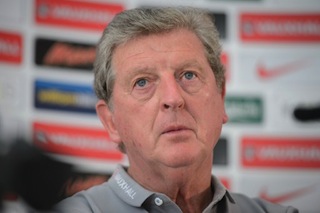 England manager Roy Hodgson has laughed off concerns about Jack Wilshere's behaviour after the Arsenal midfielder was pictured clutching a shisha pipe in a London nightclub earlier this month.
Wilshere, currently sidelined by an ankle injury, has previously been photographed smoking cigarettes on two occasions and admitted after the most recent incident last year that it was "unacceptable".
But Hodgson, for whom Wilshere is a key player, played down the seriousness of the incident, although he did suggest that he would have preferred it if the 23-year-old had shown more discretion.
"I thought tobacco was smoking and shisha pipes were water with flavour?" Hodgson told journalists on Thursday.
"As an ex-cigar smoker, when I tried it, I thought it was a complete nonsense. I couldn't understand who would do it. Apart from a faint fruity taste in your mouth, that was about the end of it.
"As far as I am concerned that is a club matter and (Arsenal manager) Arsene (Wenger) dealt with it very, very well.
"If you are asking me, in an ideal world is that an ideal thing to happen? Of course it isn't, but we don't live in an ideal world.
"I am happy it has been dealt with and it won't occupy a lot of my time with Jack when I see him because we have a football match to win."

Load more