Former Nigerian president, Chief Olusegun Obasanjo, said it is insulting and ridiculous to question the academic credentials of APC presidential candidate, retired Gen. Muhammad Buhari.
Speaking at the launch of his book, My Watch, in London, Obasanjo said when he joined the army in 1958, it was mandatory that one must have WASC or GCE before enlisting in the armed forces.
He said the requirements were the same when Gen. Buhari joined the army in 1961, adding that even if Buhari did not have the required qualifications then, he had gone through the staff college which is equivalent to a first degree and the US War College which is equivalent to a master's degree.
"If anybody thinks that I'm illiterate or uneducated after attending many military institutions in the UK, India and the US, they should read my books", he said, and urged those engaged in Buhari's qualification debacle to "focus on real issues and stop degenerating into trivialities".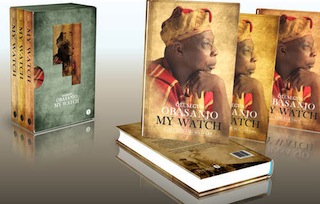 On his reported endorsement of General Muhammadu Buhari, Obasanjo, clarified that his wish is to see Nigeria headed by a strong president.
"Well, whatever you get in the paper and in the press, please yourself," he said to guests at the event, who wanted to confirm the reported endorsement.
"What I said, I maintain that I will say it again and I will do it. When the time comes for me to vote, I will consider the track record of all the candidates that are contesting and I will assess and based on my own assessment for who I believe have the best track record to perform the job of the Nigerian President, then he will have my vote.
He added, "If anybody should know what the job of the Nigerian President requires, I should know."
The former president remarked that God would not have forgiven him if he had allowed vice-president Atiku Abubakar to succeed him, noting that with his experience, he knew what the job of running Nigeria entailed and who could do it well.
On whether he was overheating the Nigerian polity with his comments, Obasanjo said: "I am not heating anything. When things are going bad and you can't say anything, you are an accomplice. If anybody can prove that what I am saying is wrong, I will apologise".
He said in spite of the problems bedeviling Nigeria, the country's future is "rosy" and bright, emphasizing that the country faced similar problems in the past, including the civil war but came out stronger.
"God will see Nigeria through. Nigeria will emerge successfully and move up and forward," he said.
The book launch which was attended by mainly Nigerians in Diaspora, was anchored by Richard Dowden of the Royal African Society, London, and Zeinab Badawi, a renowned television broadcaster.

Load more