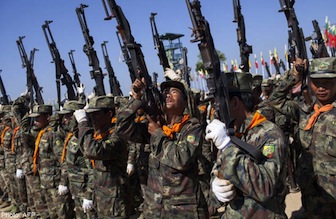 Nearly 50 soldiers have been killed in recent fighting with rebels in a northern border area near China, Myanmar's state media said Friday, the latest blow to government hopes for a countrywide ceasefire.
The troops were killed in four days of clashes in Shan state with largely ethnic Chinese rebels from the Kokang region which broke out on February 9, the Global New Light of Myanmar said.
"So far, the fighting has left government forces with 47 dead, 73 wounded and five vehicles destroyed," said the report in its English language edition.
A 200-strong force of Kokang rebels attacked a military base in the Kongyan area on Thursday, shelling the headquarters, the report said. The army has carried out five airstrikes in retaliation.
The resurgence of conflict in the Kokang area of Shan state, which had been largely dormant for nearly six years, is an ominous sign for the government as it attempts to forge a comprehensive peace deal.
The state borders China's Yunnan province. Fighting there several years ago saw thousands flee over the border, sparking concern in Beijing — a long-time ally of Myanmar's then military rulers.
Conflict between the military and armed ethnic minority groups is also raging in other parts of Shan and northern Kachin states, casting doubts over government efforts to ink a nationwide ceasefire deal.
Myanmar had hoped to sign the long-delayed agreement on Thursday, as the country celebrates its annual Union Day celebrations in Naypyidaw.
Instead, the government and ethnic groups penned a commitment to continue talks and referenced the concept of federalism.
Observers say the inclusion of the federal concept by the government marks a watershed in the tortuous negotiations, as it has resisted any deal on federalism until now.

Load more