Abiodun Onafuye/Abeokuta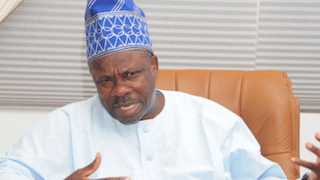 Governor Ibikunle Amosun of Ogun state has revealed that there are no strong opposition parties in the state, noting that, the Peoples Democratic Party (PDP) is completely dead in Ogun.
He disclosed that all the 'real owners' of the party in the state are already with the APC, querying the credibility of those claiming to be leaders and elders of the party in the state now.
Amosun maintained that the extension of the elections is a blessing in disguise for his party, All Progressives Congress (APC) as they will be sweep the polls during the elections.
He posited that the PDP will be defeated heavily in the state as he declared that the opposition party, PDP should never think of rigging in the state as they are fully ready for them.
The governor stated this Wednesday night during the final rally of his campaign tour which was held at the Oba Odeleye Square, Ita Iyalode in Abeokuta North local government area of the state.
Amosun during his about five weeks governorship reelection tour, visited all the 236 wards in the state. During his final rally, he declared that his style of campaign, has made him to understand the whole state and what every community needed.
"We took the extension as if nothing has happened. We went ahead to finish our ward to ward campaign. Today is the last day of the wards campaign. We have visited all the 236 wards, for us, when things turn like this, it will turn to blessing in disguise for us. The people that did this, though, I don't believe them, but give them the benefit of doubt.
"Even with that, they have postponed their defeat. The defeat would be heavier now. In Ogun state, the highest votes is between 55 and 60 per cent. With what they have done now, may be, we would be in the position to be around 70 per cent in our favour, that is why I am not bothered. When they said PVC, I know that in every ten, seven will vote for us. We would have more opportunity to bury the PDP.
"I don't know of any party, even, the other one they call SDP, they are new starters. They want to act as spoilers but God has destroyed them. We are starting afresh. We are going to all our 20 local government areas. All our opinion moulders, no resting, we want to keep the tempo on. We want to bury them completely. When they are saying PDP, where is PDP in Ogun state, I used to be PDP, we know ourselves. If they are lying to them in Abuja, I am helping them out now, they don't have any root in Ogun state.
"They can't have 10 per cent votes in Ogun state. They will fail woefully in Ogun state. They can't rig in Ogun state. I have said it repeatedly, they can't rig in Ogun state. They should bury that evil thought that they want to rig here. Ogun people are ready for them," Amosun warned.
The governor however queried the authentic membership of those people calling themselves PDP today in the state, affirming that the real players in PDP have already defected to APC.
"Let me say this here, it is not only people that you are seeing here. Throughout Ogun State, I don't know who or which kind of PDP that is not with us. All the PDP are with us fully. If there are anyone in PDP, they are not the real owners of PDP. All the real owners of PDP are with us. Don't forget that I am a member of PDP, I know PDP inside out. All the major arms of the PDP are now with us. We have been going round, when I read something in the newspapers, I laugh. This Ogun state, I am saying this with all sense of responsibility and being modest, I don't see any party that is having up to 10 per cent votes. Look at where we are now, all tendencies are together with us," the governor revealed.
Amosun expressed satisfaction with the reception received from all the 236 wards across the state, adding that, people's love and support should not be taken for granted. "For me, when God shows blessing on you, we should not think that we are all in all. Some of our people do tell me, why are you campaigning and I do tell them that we should not take the support of our people for granted, that is why we are doing this.
"For us, we have to take the support of our people serious; we want to work for our people. It is a covenant between us and God. I have told all our candidates that they must do ward to ward, that they must know all the people and feel their pains," Amosun submitted.

Load more