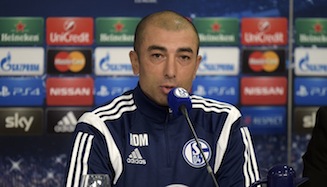 Schalke 04 suffered a 1-0 Bundesliga defeat at Eintracht Frankfurt as they look to avoid another record Champions League defeat at the hands of Real Madrid on Wednesday.
Carlo Ancelotti's Real hammered Schalke 6-1 in Gelsenkirchen in the last 16 last season on their way to the title with Schalke set to play hosts to the Spaniards again at the same stage of the competition in mid-week.
But Roberto di Matteo's Schalke struggled in their final warm-up match at Frankfurt on Saturday as Eintracht's Brazilian midfielder Lucas Piazon headed home unmarked from a corner with 65 minutes gone.
Last season's defeat at home to Real was Schalke's heaviest European defeat as Real went onto win the title.
The Royal Blues were also routed 5-0 at home by Di Matteo's former side Chelsea, who he steered to the 2012 Champions League title, in November's group stages.
"We have to use our chances and create goals, we have to concentrate on our next game, we know the areas we have to work on and what needs to be done," said Di Matteo, who took charge in October.
The Frankfurt defeat sees Schalke drop to fourth in the German league.
"We played good football in the first half, but what was missing was the goal," said Schalke captain and Germany defender Benedikt Hoewedes.
"We made a mistake which allowed them to score, which we had talked about before, so that's really annoying."

Load more