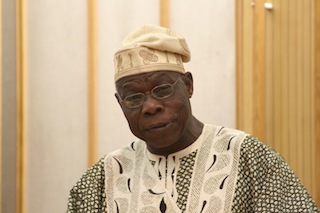 Abiodun Onafuye/Abeokuta
Former president of Nigeria, Chief Olusegun Obasanjo has likened President Goodluck Jonathan to the former president of Cote d'Ivoire, Lauren Gbagbo, following the postponement of general elections which was supposed to be held today across the country.
Obasanjo declared that the postponement was a big shock and surprise to him, adding that, Independent National Electoral Commission (INEC) was forced to make the poll shift.
The former president who returned to Nigeria last night after he launched his autobiography, "My Watch" abroad and attended various meetings said Jonathan has a grand plan to ensure his continuous stay in office.
While answering questions from newsmen who had laid siege at his Presidential Hilltop, Abeokuta Saturday morning he said: "I am surprise with the postponement. I left Nigeria penultimate Wednesday, I traveled to Morocco, Munich, Nairobi, London and New Delhi. Exactly a week today, we were in Munich for the Munich Security Conference. I was there with Koffi Annah, a lot of world leaders were there and I was to talk about peace in Africa.
"Suddenly, people started asking me questions from different parts of the world about the development in Nigeria. I decided not to issue any categorical statement until I got back home.
"It turned out to be a forced decision on INEC, it was alleged that the security chiefs were unable to provide security and as a result, Jega has to postpone in accordance with the dictate of the so called security chiefs. It is a bad precedent for democracy in Nigeria. It means no matter any preparation the nation set on ground in future for any elections, the final decision lies on the security. This is a sad day for democracy in Nigeria," Obasanjo stated.
Ebora Owu, as Obasanjo is fondly called revealed that President Jonathan is up to something and his plan is to scuttle the electoral process and cause chaos in the country as was done by the former President of Ivory Coast, Lauren Gbagbo.
"President Jonathan has a grand plan to ensure that by hook or crook, he wins the election and if he fail, he scuttles it and brings chaos, confusion and unpleasantness to the whole country. It is either he is following his own grand plan or playing a script, which of course, must have gotten his endorsement.
"He is trying to play Gbagbo, the former president of Cote D'Ivoire. He postponed election in his country until he saw that he will win. He doid not allow elections to hold, when it eventually held, it was an inconclusive election. In the run off election, he lost to Quattara and he refused to hand over, he unleashed horror in that country until nemesis caught up with him. I believe we may be seeing a repeat of that, what I called, 'Gbagbo Saga'," Obasanjo revealed.
He however declared that with his experience in security matters, it will take only God's miracle to achieve what the security chiefs said they will do in just six weeks, eradication of the boko haram insurgency in the country.
Obasanjo further stated that Buhari is more competent and well equipped to tackle the corruption, recklessness and impunity that has eaten deep into the fabrics of many Nigerians.
Balogun of Owu kingdom with the statement credited to Mr President during his media chat few days back that he was not aware of what the security chiefs said, bluntly said, "he is reigning and not ruling, so who are those hiding somewhere and ruling this country?", he queried.
Obasanjo disclosed that he believes in the leadership of Buhari more than anybody at this present time, asking Nigerians not to compare the military era to the democratic system.
According to him, "I believe General Buhari will fight corruption, he will give firm leadership. When he was there before, he was a military and military leader is both the executive and the legislative but in democracy, it is not possible like that.
"Moreso, military has been rendered impotent and I believe he will do everything to resuscitate it because he knows the military well, so he will do it, if he fails to do it, I will say shame unto him," Obasanjo posited.
Obasanjo in his submission, appealed to President Jonathan not to listen to those who are creating phobia of Buhari and phobia of enquiry, adding that, the President has done well and he should rather have a dignified exit which will acclaim him as a patriot and true democrat.
He also appealed to the APC presidential candidate, General Muhammadu Buhari to ensure that after the election,which he believes Buhari will win,must find a way to allay the fears of many who see him as a threat in the area of human right,obedience of our constitution and rule of law.
On his final analysis, tasked every Nigerians to play their parts in the progress and development of this great country,saying,"for me I would not stop,there is nothing better than democracy. And for those who are pushing President Jonathan,he should beware because when the chips are down,he will be naked and they will mock him at the end. I wish President Goodluck Jonathan, General Muhwmmed Buhari and every Nigerian every good wish," the former President concluded.