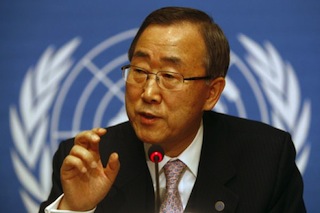 The United Nations refugee agency on Friday said tens of thousands of Nigerian refugees and Internally Displaced Persons (IDPs) were in urgent need of humanitarian assistance.
This was contained in a statement issued by the spokesperson of the United Nations High Commission for Refugees (UNHCR), Adrian Edwards.
"We are working with authorities to deploy aid workers as soon as possible. We are also preparing for rapid evaluation and response assessments.
"The situation is further exacerbated as shops remained closed and humanitarian actors have had to significantly reduce their activities in the Diffa region because of general insecurity," the statement said.
It pointed out that there were no humanitarian actors left in Bosso.
Meanwhile, the UNHCR spokesperson warned that the situation in Cameroon was just "as worrying", citing reports of killings, abductions and violence in the country's Far North region near the border with Nigeria.
Edwards said the Insecurity was also making it increasingly difficult for UNHCR teams to access the border areas where refugees arrive before relocation to Minawao refugee camp, some 120 kms away.
"The violence in Cameroon's Far North is affecting tens of thousands of local residents too.
"UNHCR is working closely with the Government of Cameroon and humanitarian partners to determine the scope and evaluate the situation on the ground, identify and locate the IDPs and draw up a humanitarian response," he said.
The UNHCR said in December, the first results of a continuing Nigerien Government census, organised with agency's technical support, revealed that at least 90,000 people, including Niger nationals previously living in Nigeria, had found refuge in Niger's Diffa region since May 2013.
It stated that many have chosen to remain close to the border, hoping to return to their home villages when the situation calms down.
According to figures released by the UN Office for the Coordination of Humanitarian Affairs, no fewer than 200,000 people have fled Nigeria.
"They fled to neighbouring countries, including Chad, Cameroon and Niger, due to ongoing violence in Nigeria's Adamawa, Borno and Yobe caused by armed insurgents reportedly associated with extremist group Boko Haram."
The UN agency said the fighting, however, had spilled over to neighbouring regions, further threatening those refugees who initially escaped to Nigeria.
It said that in the southern Nigerien region of Diffa, for instance, Niger armed forces were already engaging the Boko Haram insurgents in running battles.
It said in retaliation, Boko Haram had waged a series of attacks in Diffa town against civilians, including suicide bombings.

Load more