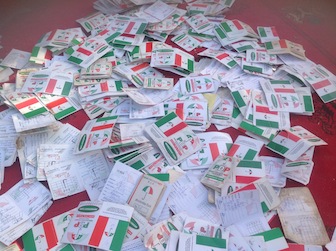 Alhaji Abubakar Dange Former chairman of Dange Shuni local government area of sokoto who renounce his membership of PDP with over 2589 supporters to APC has expressed optimism that Nigeria will be better in the hands of progressives.
Dange was addressing the All Progressive Congress (APC) supporters during the party gubernatorial campaign in the area.
"We will reach to our teeming supporters at the rural areas to actively mobilize for the winning team for the overall victory of our candidates to ensure the realization of the progressives," he said.
"Our imam, youth leaders, women and elders will be engage in sensitizing our supporters to safeguard their permanent voters cards for elections," he said.
He said the Wamakko administration had succeeded in putting in place policies and programmes that have improved the lots of the people.
Dange also expressed confidence on the ability of Aminu Tambuwal to continue with the good democratic leadership of the Wamakko administration to move the state forward.
Governor Aliyu Wamakko had called on the defectors to ensure they collect their Permanent Voters Card.
He said that the card remains the weapon needed to effect the desire political change for the good of the country, noting that, no amount of intimidation will deter the progressives from seeking political change in the country.
He also called on supporters to shun violence and thuggery for the peaceful conduct of elections.
Earlier, Speaker Aminu Waziri told the gathering that the APC led administration will provide dividend of the democracy to all Nigerians.
"We have done this in our states and by the special grace of God we shall do it at the federal level in our resolve to better the lots of our people.
He also advised them to shun money bag politicians who may approach them to sell their Permanent Voters Card.
He said that the card is to be used to cast vote for all APC candidates seeking elective positions so as to ensure good governance in the country.

Load more