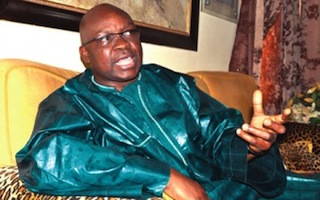 Ekiti State Governor, Ayodele Fayose, has described former President Olusegun Obasanjo as "a cancer that may never get cured in a lifetime".
He was reacting to the statement on Saturday by the former president, in which he accused President Goodluck Jonathan of planning to hang on to power by hook or crook or imposing on Nigeria a "Gbagbo treatment", a reference to the former Ivorian leader who instead of conceding electoral defeat, plunged his country into war.
Fayose in a statement by his special assistant on Public communications alleged that Obasanjo is fighting Jonathan because Jonathan prevented Obasanjo from ruling Nigeria from his Ota Farm.
According to the statement signed by Lere Olayinka, Fayose believed that Jonathan will be re-elected to complete his eight year term
"The moment Obasanjo is not the one controlling a house, he will want the house pulled down but this time around, he has failed."
"Obasanjo has always benefitted from the misfortune of others and he is living with the impression that he is the wisest person in the whole world.
"When Murtala Mohammed was murdered in 1976, Obasanjo was the beneficiary.
"In 1993, he said the acclaimed winner of the June 12, 1993 presidential election, late Chief MKO Abiola was not the messiah Nigeria needed. Instead of Obasanjo to join the clamour for the actualisation of Abiola's mandate, Obasanjo was canvassing for an Interim National Government, which he schemed to head.
"MKO Abiola died in detention in 1997 (1998) and Obasanjo became the beneficiary of his (Abiola) death.
"Despite the fact that it was the blood of MKO Abiola that Obasanjo marched on to power, not even a street was named after Abiola throughout Obasanjo's eight years as president.
"Today, Obasanjo is fighting President Jonathan, the man who has done what he failed to do for Abiola, the Yoruba people and Nigerians as a whole when he was president for eight years, simply because he does not want anyone to equal his record as Nigeria's longest serving president.
"President Jonathan has made it impossible for Obasanjo to run his presidency for him and for this reason, he is supporting Buhari, hoping that he will be the one to nominate ministers for Buhari if he becomes president."
In another development, Fayose has challenged his predecessor, Dr. Kayode Fayemi to go to court over the leaked audio concerning the rigging of the June 21 governorship election in the state.
The audio captured the voices of Fayose, Senator Omisore, Senator Obanikoro, jelili Adesiyan and Caleb Olubolade discussing with Brigadier Aliyu Momoh on how to rig the polls in Fayose's favour.
Speaking with journalists in Ado Ekiti on Sunday, Fayose declared that he was ready to defend himself before a court of competent jurisdiction.
President Goodluck Jonathan in an interview with The Wall Street Journal, published weekend described the audio as a fabrication and said his government will not set up any enquiry on it.

Load more