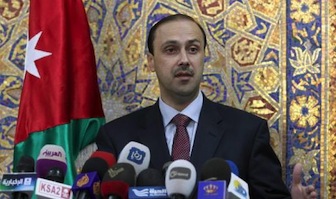 Bahrain has deployed fighter jets to Jordan to support the US-led air campaign against the Islamic State (IS) group, Jordan's information minister said on Monday.
The move comes a week after the United Arab Emirates deployed an F-16 squadron to Jordan to take part in the air strikes against the jihadists who control swathes of Iraq and Syria.
"This move highlights the brotherly ties between Jordan and Bahrain, and comes in line with our belief in the importance of the war against terrorism," Information Minister Mohammad al-Momani told AFP.
"Jordan appreciates the support provided by Bahrain, as we also appreciate UAE support too."
The UAE had suspended its participation in the air campaign against IS in Syria after a Jordanian pilot was captured by the jihadists in December but resumed it last week after IS posted grisly video of the airman's murder.
Bahraini state media did not specify the number of aircraft that had been sent to Jordan on Sunday but said the deployment was to assist in "international efforts to eliminate terrorism."