Nnamdi Felix/Abuja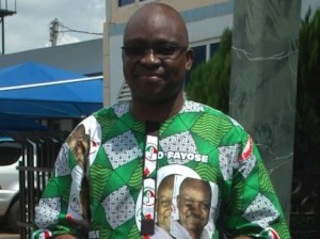 A Court of Appeal siting in Abuja on Monday, upheld the victory of Governor Ayodele Fayose of Ekiti state in the June 21, 2014 governorship election.
In a decision delivered by a full panel of the court and headed by Justice Abdul Aboki, the court held that the APC did not prove beyond reasonable doubt that Fayose's certificate issued by The Polytechnic Ibadan, was forged.
The court noted that the issuing institution which was The Polytechnic Ibadan had forwarded a letter stating that the certificate in contention was issued, noting that the APC failed to provide any evidence before the court to show that the certificate was forged.
The opposition All Progressive Congress, APC, had approached the court challenging the decision of the Ekiti state Governorship Election Petition Tribunal which sat and affirmed the Governor's victory in Abuja last December.
The APC had claimed that the tribunal erred by dismissing the ground of its petition on the alleged certificate forgery by Fayose and also faulted the tribunal's decision which struck out the Chief of Army Staff and Nigerian Army as parties in its petition.
The appellate court held that the tribunal was right as such office and establishment are not recognised under law to be involved in electoral process and upheld they are not necessary parties.
The court however observed that by the provisions of the law, the military has no role to play in electoral process and that whoever deployed the military to Ekiti for the governorship elections had breached the law.
"We have looked carefully into this appeal, there is no merit in the appeal and it is hereby dismissed. The judgement of the tribunal delivered on December 19, 2014 succeeds" said the court.

Load more