Eromosele Ebhomele
Captain Sagir Koli, the Nigerian Army officer at the centre of a leaked audio recording of a meeting betweeen his Commander, Brig.-General Momoh, and top members of the Peoples Democratic Party, PDP, a day to the governorship election in Ekiti State on 21 June, 2014, has revealed that the military was compromised and handed over to Governor Ayo Fayose during the election.
He said this was partly why Fayose, who he called a thug, defeated the All Progressives Congress, APC, candidate and incumbent Governor, Dr. Kayode Fayemi.
Part of the  rigging plot hatchced on the eve of the election was to arrest the party's top ranking members and detain them till after the election.
The meeting was attended by the Army Commander (Momoh), former Minister of State for Defence, Musiliu Obanikoro, Fayose, Minister of Police Affairs, Jelili Adesiyan, and others.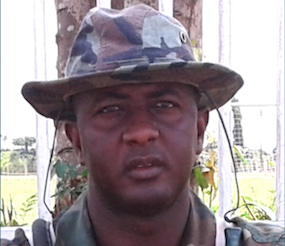 Though Obanikoro and Fayose earlier denied being at the meeting, Adesiyan confirmed it but said the meeting was not aimed at rigging the election.
Koli said he decided to leak the audio recording because he was not happy with the way the military was compromised and used during the election against the soldiers' oath of office.
"A day to the election, my commander said the then Minister of State for Defence (Musiliu Obanikoro) wanted to see him. Ordinarily if the Minister of Defence should come to your AR (Area of Responsibility), it is our duty to protect him.
"We went there. I was thinking we were going to be given further directives. When we got to Spotless Hotel in Ado-Ekiti, we entered and I saw PDP chieftains.
"Spotless Hotel was like Fayose's campaign office. That was where thugs were kept. It was even part of our operational order to work with the thugs. When we entered a room and I saw the calibre of people there, I said: 'this is the final stage of this compromise'," Captain Koli told The Nation, a national daily in Nigeria, from his hiding place abroad.
"Immediately they started talking, when I noticed their mood, I said this is it. I had already made up my mind that something needed to be done about these people. I took oath of office to protect the constitution and to protect democratic institutions.
"Every commissioned officer, from 2nd Lieutenant, Lieutenant and Captain, was imbued with the value to protect the constitution. I am not a baby captain, my course mates will become majors.
"So, I said I had to record them. When they started, you know I am an Intelligence Officer; I am trained, so the way I will do the recording, you can never know.
"That is why up till today, some of them are still shocked about how it happened," he added.
The Army Captain who implicated the presidency in the alleged rigging of the Ekiti election, added: "the Strike Force, mobile police, SSS, Civil Defence, police and military men were paid.
"Our Brigade RSM handled the payment. He was given the money to pay the Strike Force. N20, 000 each. After the payment, they were directed to different parts of the state, Ikole, Okemesi, Ikere and all other local governments.
"They were handed over to PDP supporters and thugs directly to work for them. That was the instruction and Chris Uba was there supervising to make sure it was done."
He also said his commander had been paid before the meeting and eventual election for his service.
"They had given him money since. Our hotel was stocked with money. We stayed in Jewel Hotel along that Fayose Estate. We had money already, Ghana-must-go bags of money. They gave him money prior to that meeting," he said.
He said while Asiwaju Bola Tinubu was allowed into Ekiti to avoid trouble, there was an instruction to stop Governor Adams Oshiomhole of Edo State and Rotimi Amaechi from entering the state even when the same instruction granted unrestrained access to loyalists and supporters of Fayose.
"The military was handed over completely to Fayose and his men to work for them. That raised Fayose's and his people's morale.
"In Ekiti then on the election day, if military vehicle was passing, you would hear people shouting power,  power,  power. Everybody had seen that the military was backing Fayose.
"Secondly, on election day, we were to impose restriction. Fayose's men were given unlimited access to move freely, pedestrian, vehicular, unrestricted access for the movement of INEC materials.
"Fayose said it in that recording that INEC had given them some materials which they printed out and he has a contact," he revealed.
He also said it would be difficult to end insurgency in six weeks being the reason for the postponement of the general elections in the country.