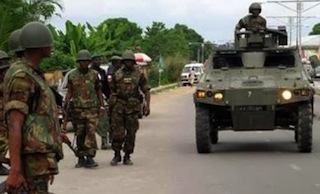 Nigeria's military on Monday claimed the recapture of Monguno, a garrison town in northeast Borno state, after it was seized by Boko Haram Islamist militants last month.
The insurgents suffered casualties and the military operation disrupted an attempt to re-supply fighters in the flashpoint town of Baga with weapons and food, a statement said.
"Troops in a military operation spearheaded by highly coordinated air assaults have completed the mission of clearing terrorists from Monguno and environs this morning," defence spokesman Chris Olukolade said.
Boko Haram seized Monguno on January 25, taking hold of a military base and a cache of weapons, after overpowering troops based in the town.
Losing Monguno was seen as a tough blow for the military given its proximity to Borno's capital Maiduguri, which Boko Haram has long eyed as a takeover target.
Fears that Boko Haram would use Monguno as a launching pad for an attack on Maiduguri were confirmed on February 1, when the Islamists stormed the state capital, before being repelled.
The military's claims of successes over Boko Haram have often been inconsistent with witness accounts but if confirmed the recapture of Monguno would add to a growing list of army victories this month.
According to defence officials, a new cooperation with neighbouring militaries — including Cameroon, Chad and Niger — has put the Islamist rebels on the defensive, with several towns under rebel control retaken.
But the insurgency has persisted, including a huge assault of Gombe city Saturday by scores of insurgents and a suicide bombing in Yobe state's capital Damaturu on Sunday that killed 13.
Nigeria's election had been scheduled for February 14 but security officials cited raging violence as a justification for a six-week delay.
The international community and Nigeria's opposition have warned that any further postponement could spark a constitutional crisis and even unrest.
President Goodluck Jonathan has vowed that the elections will go ahead and a new, elected government sworn in on May 29, in keeping with the constitution.