Abiodun Onafuye/Abeokuta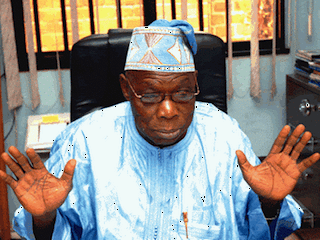 Former Nigerian president Olusegun Obasanjo has dumped the ruling Peoples Democratic Party (PDP), stating that, he is no longer interested in the party.
He tore his PDP membership card but has not declared his interest to join any other party.
The former Chairman of the Board of Trustees of the ruling PDP declared this Monday morning while addressing newsmen at his Presidential Hilltop mansion, Abeokuta.
To let the whole world know that he meant his decision, the Balogun of Owu Kingdom also tore his party card into shreds in the presence of newsmen.
Ebora Owu as Obasanjo is fondly called said if he is involved in partisan politics it would deter his mission to have a better Nigeria, noting that, he was ready to sacrifice his membership of the PDP and become a statesman.
While fielding question from newsmen on the purported rumour of being expelled from the party, he angrily directed one of his aides to get him the membership card.
As he was handed the card minutes later, he threw it away and declared that, "if this is why we cannot have the Nigeria we desire, I am no longer part of this."
The former President, who later handed over his PDP membership card to the ward 11 chairman in Abeokuta North local government, Alhaji Surajudeen Oladunjoye instructed him to tear the remains of the card.
In quick response, the ward chairman, Oladunjoye, who led over 350 PDP members of the ward to a fact-finding mission at the Obasanjo's residence tore the card into shreds to the admiration of the party followers.
Surprisingly, all the party members who were with their cards also tore their cards amid jubilation and banter throwing.
He maintained that a better Nigeria remains his desire, adding that, he will do anything to achieve that.
Obasanjo however advised Nigerians to go all out on the election days and cast their votes for a better Nigeria.
Obasanjo was a founding member of the PDP and the first democratically elected president of the party. He was elected twice (1999 and 2003) on the platform of the PDP as president of Nigeria.
But the former Head of State has increasingly become frustrated by the tactics and style of President Goodluck Jonathan in handling insurgency, the economy and more recently over the postponement of the general elections.

Load more