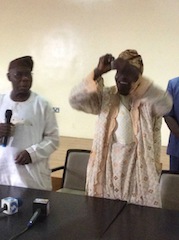 Ogun state chapter of the Peoples Democratic Party has expelled former president of Nigeria, Chief Olusegun Obasanjo from the party.
The move by the PDP comes hours after Obasanjo publicly shredded his PDP membership card and dumped the party.
Obasanjo has stated that he prefers to remains an elderstate man in the country.
It would be recalled that Obasanjo, an army general (retired) fell out with the present administration after fierce criticism of President Goodluck Jonathan and the PDP.

Load more