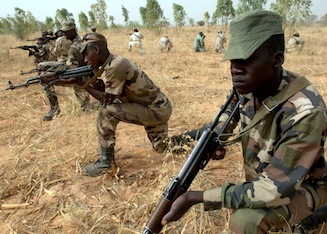 A would-be suicide bomber was shot dead in southeastern Niger, on the border with Nigeria, as he attempted to blow himself up next to a military post, the Niger army said Tuesday.
The incident took place on Monday in Bagara, near the town of Diffa, an area that has repeatedly been targeted by Nigeria's Boko Haram Islamists in recent days.
"On Monday, at 21h00 (2000 GMT) a 17-year-old suicide bomber was shot dead in Bagara after trying to detonate his explosives belt," the army said in a report seen by AFP.
"The suicide bomber did not succeed in blowing himself up," the report said, adding that a military explosives expert was seriously injured, apparently while defusing the device.
Later that night, "three Boko Haram members" armed with knives attacked the same military post, the army said.
A police man was wounded but his injuries were not life-threatening, according to the report.
The attack was the second foiled suicide bombing in less than a week in southeast Niger, which is separated from Boko Haram's heartland in northeast Nigeria by a river.
A week ago, a female suicide bomber blew herself up in a market in Diffa, killing six people and injuring around 15.

Load more