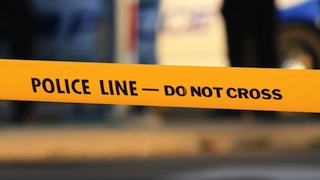 A bomb exploded close to the police headquarters in the eastern Pakistani city of Lahore on Tuesday, killing three people in a rare attack in the city that is Prime Minister Nawaz Sharif's powerbase.
Lahore, Pakistan's second largest city which is seen as relatively liberal, has largely escaped the worst of the Islamist violence that has engulfed the country in the last decade.
Tuesday's blast hit just metres from an entrance to the police headquarters in the heart of the city, sending a column of black smoke rising above buildings.
"According to initial reports it was a car bomb but we are still determining the exact nature of the blast," senior police official Haider Ashraf told AFP.
"At least three people have been killed in the explosion."
Television footage showed several vehicles on fire after the explosion, which left the street littered with broken glass and debris from nearby buildings.
The blast comes just days after 22 people were killed in a gun and suicide attack on a Shiite mosque in the northwestern city of Peshawar.
The Tehreek-e-Taliban Pakistan (TTP) claimed responsibility for Friday's attack in Peshawar, saying it was revenge for a militant known as Doctor Usman, who was hanged in December.
The country has stepped up its fight against militants since Taliban gunmen massacred more than 150 people, most of them children, at a school in Peshawar in December.
Following the massacre, Sharif ended a six-year moratorium on the death penalty and Doctor Usman, also known as Aqil, was one of the first to go to the gallows.
He was convicted for an attack on the army headquarters in Rawalpindi in 2009 and was arrested after being injured.
In claiming Friday's attack, the TTP vowed to continue their campaign of violence.

Load more