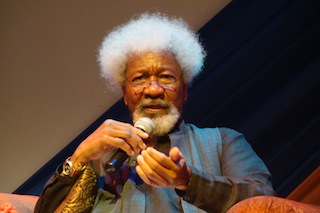 Nobel Laureate, Professor Wole Soyinka, has described General Muhammadu Buhari, the main opposition presidential candidate in Nigeria as the most brutal dictator after late General Sani Abacha. He however noted that the two leading candidates in the 2015 presidential election (Buhari and President Goodluck Jonathan) are both problematic, adding that, while one is troubled by the past, the other is troubled by the present.
In an interview with the British Broadcasting Corporation, BBC, he noted that the electorate were in a dilemma as a result of the choices they have been provided by the political parties ahead of the elections that were postponed for six weeks from February to March and April.
"Buhari and his partner General Tunde Idiagbon, after [former military head of state] Sani Abacha, I think they represented the most brutal face of military dictatorship. There is no question about that," Soyinka told BBC.
"But the environment changes, circumstances change and… I look at the possibility of a genuine internal transformation in some individuals. I've been disappointed before and we must always be ready to be disappointed again," he added of Buhari.
He had a similar scathing assessment of Jonathan. "What happened was a clear failure of leadership – a slow reaction, an inadequate reaction and response," Soyinka said while stressing that while responsibility for the Boko Haram crisis rests with President Jonathan, the government cannot be held solely responsible for the entire jihadist problem as it began under previous governments," he said.