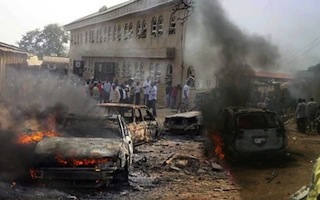 wo suicide attacks in northeast Nigeria killed at least 38 people Tuesday, after Boko Haram razed a town and as violence raged across the embattled region less than six weeks from elections.
The Islamist insurgency has already forced a delay in the vote, initially scheduled for February 14, and officials voiced hope that a regional military offensive could contain the bloodshed before the new polling day, March 28.
But the latest wave of attacks blamed on the rebels underscored the challenge facing Nigeria and its neighbours — Cameroon, Chad and Niger — despite claims of major successes in the joint operation launched this month.
Niger's President Mahamadou Issoufou vowed that his country's involvement in the four-nation coalition would herald the end for the rebels, whose six-year insurgency has killed more than 13,000 people.
"Niger will be the death of Boko Haram," he told a cheering crowd after a protest against the insurgents in the capital Niamey.
But Boko Haram has proved resilient throughout its deadly uprising an experts question whether the group can be overpowered in the short-term.
– Checkpoint, restaurant attacked –
In Nigeria's Borno state, three assailants in a motorised rickshaw detonated explosives at a checkpoint at Yamarkumi village, four kilometres (2.5 miles) from the town of Biu, at about 1:00 pm (1200 GMT).
The suicide attack killed 36 people and injured 20, a source at the Biu General Hospital told AFP, requesting anonymity.
"Most of the victims were child vendors and beggars that usually crowd the checkpoint to sell wares and beg for alms," the source added.
Boko Haram has repeatedly tried to seize the Biu, 180 kilometres (110 miles) from the state capital Maiduguri, but has been repelled by troops and local vigilantes.
Some four hours later, in Potiskum, the economic capital of neighbouring Yobe state, a bomber blew himself up inside Al-Amir restaurant, a popular chain in northern Nigeria.
The restaurant manager and a steward were killed, while 13 staff and customers were seriously injured, a police officer and nurse the Potiskum General Hospital said.
The bombings followed a raid late Monday in the Borno town of Askira Uba, some 25 kilometres south of Chibok, from where rebel gunmen kidnapped more than 200 schoolgirls last April.
Residents said homes and public buildings were razed, including the palace of the local chief, and hundreds of people were forced to flee.
Aliyu Abdullahia, who fled to the nearby town of Mubi, claimed that soldiers "refused to deploy" from Chibok, where they have been stationed since a Boko Haram attack in September last year.
– Neighbours claim major gains –
Nigeria had long complained that lack of action from its neighbours had hampered efforts against Boko Haram and has said the new cooperation could prove decisive.
Niamey said that more than 200 rebels were killed in its first cross-border raid on the southeast of the country and on Tuesday claimed to have averted a suicide attack in the Diffa region.
On Monday, police in Diffa, which is currently under a state of emergency, claimed they had detained more than 160 people suspected of being allied to the outlawed group.
Cameroon's army separately announced that it had killed 86 militants and detained more than 1,000 people suspected of having links to Boko Haram in the country's far north.
But with access difficult to the remote regions increasingly at the centre of the conflict and communications often non-existent, there was no independent corroboration of the claims.
Analyst Ryan Cummings of risk consultants Red24 said the regional forces may be repeating Nigerian tactics in the early counter-insurgency.
Cummings said the numbers "may not be indicative of actual Boko Haram support" but rather point to local communities, particularly in Cameroon's Far North region, arming themselves against the insurgents.
"This may be creating the perception that they are antagonistic towards government forces and therefore aligned to Boko Haram," Cummings, said in an email exchange.
"This would explain why casualties numbers of supposed Boko Haram militants are so high in comparison to relatively low figures among military forces."