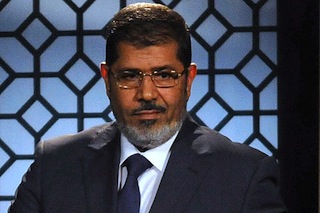 Former Egyptian president Mohamed Morsi and 198 Islamist leaders and supporters will stand trial in a military court over deadly protests that followed his overthrow, a prosecution source said Tuesday.
Morsi, an Islamist who was toppled by the army in July 2013, already faces four trials but it will be the first before a military judge.
Military tribunals have been criticised for their harsh and swift verdicts.
The leader of Morsi's Muslim Brotherhood, Mohamed Badie, is also among the defendants in the trial, which will start on February 23, the official MENA news agency reported.
The new charge against Morsi of incitement to murder stems from protests that broke out in the canal city of Suez on August 14, 2013.
The demonstrations came on the same day that police broke up pro-Morsi protest camps in the capital and killed hundreds of his supporters in clashes.
Morsi himself was detained at an undisclosed location by the military at the time, but the prosecution alleges he incited the protests that left 31 people dead over two days.
Morsi was Egypt's first democratically elected leader but his rule was divisive and the army overthrew him after millions of people protested to demand his resignation.
Hundreds of Islamists have since faced mass trials and dozens have been sentenced to death in a wide-ranging crackdown on the Muslim Brotherhood, once Egypt's largest political movement.
Morsi is already on trial for incitement to murder in connection with clashes outside his palace during his single year in power, and for alleged espionage and collusion with militants to carry out attacks during a 2011 revolt that ousted veteran strongman Hosni Mubarak.
Verdicts in two of the trials, which could result in a death sentence, will be pronounced in April and May.
Military trials are usually quick to reach a verdict with limited scope to appeal.
The constitution allows for military trials of civilians accused of violence against broadly defined military targets, which include public infrastructure such as highways, state universities and bridges.
Military tribunals have been used to sentence dozens of Islamists since Morsi's ouster, some of them to life in prison.
President Abdel Fattah al-Sisi, the army chief who toppled Morsi and then won a presidential election, has pledged to eradicate the Muslim Brotherhood, which Egypt now designates as a terrorist group.
Rights groups say more than 20,000 people, mostly alleged Islamists, have been imprisoned.
The Egyptian government has brushed off international criticism of the crackdown, insisting that the Islamists are violent. The Brotherhood says it is committed to peaceful protests.
Egypt has been shaken by unrest since Morsi's overthrow.
The deadliest attacks have been carried out by jihadist groups that eschew the Brotherhood's grassroots approach and have killed scores of policemen and soldiers, mostly in the restive Sinai Peninsula.

Load more