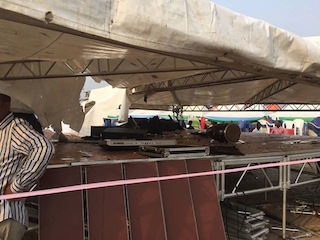 Explosion, gunfire rocked the All Progressives Congress (APC) rally in Okrika, Rivers state today, although casualty figures are yet to be ascertained as at the time of filing this report.
It would be recalled that an earlier attempt to hold the APC governorship rally in Okrika was thwarted by armed youths who bombed all the equipment, podium and destroyed all the canopies set up at the National School Field, Okrika venue of the campaign rally for Dakuku Peterside rally.
APC alleged that Patience Jonathan, who hails from Okrika had vowed that the party would not be allowed to hold any rally in the area.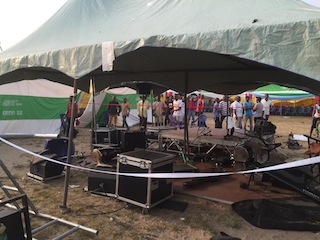 In a Save Our Soul (SOS) message to President Goodluck Jonathan, APC asked him to call his wife to order and to tell her to allow them exercise their right to freedom of association and allow APC hold its rallies in Okrika and Ogu/Bolo local Government areas.
According to Okrika APC: "On Saturday January 24, some PDP members attacked the venue of the proposed APC governorship rally. Properties were destroyed cars were burnt and attempts were made to prevent the rally from holding but APC refused to be cowed by their violent actions.
"It is pertinent to note at this point that the security personnel who were sent to secure the venue were unceremoniously pulled out and asked us to stand down with the ubiquitous orders from above. Minutes after the security operatives left, another set of PDP boys swarmed on the venue attacking persons and their homes and burning cars".
Political tension has raged in Rivers since outgoing governor Rotimi Amaechi defected to the APC from the ruling Peoples Democratic Party (PDP) in 2013.
The war of words has been particularly fierce between Amaechi's camp and supporters of the wife of the president, Patience Jonathan.
Critics have alleged that she sees Rivers as her personal political domain and was committed to removing the governor at any cost.
Peterside, who is Amaechi's hand-picked successor, had tried twice previously to hold a rally in Okrika but was forced to cancel on security grounds.
As supporters were gathering for Tuesday's rally at the National Secondary School, a small explosive device went off, forcing crowds to scatter but causing no casualties, a witness said.
Organisers then decided to press on with the event but gunshots from unknown assailants caused a second wave of chaos, live pictures broadcast on the Channels television station showed.
A reporter from the privately owned TV channel was forced to take cover, lying with his stomach on the ground as armed security personnel moved in the background.
Police were not immediately available to comment on the identities of the gunmen.
"We have been attacked," Amaechi's spokeswoman Ibim Semenitari told AFP, declining further comment.
– Flashpoint area –
The National Human Rights Commission last week said 58 people had been killed in political violence in the run up to Nigeria's polls, which were initially scheduled for February 14.
The commission pointed to oil-producing Rivers in the Niger Delta as a flashpoint area for potential unrest, in part because of the bitter rivalry between the APC and the first family in the state.
In the national campaign, President Goodluck Jonathan is facing a tough test against the APC's Muhammadu Buhari, a former military ruler.
Rivers has been identified as a key swing state.
Jonathan comes from neighbouring Bayelsa and had previously banked on massive support across the Niger Delta but Amaechi's defection to the APC has changed the political dynamics.
Losing Rivers could ruin Jonathan's re-election hopes and would likely be seen as a personal embarrassment to the first lady, who is an often criticised figure in Nigeria.
Patience Jonathan had initially suggested that the kidnapping of more than 200 schoolgirls in Chibok by Boko Haram in April last year was staged to embarrass her husband.
Later, while meeting with relatives of the hostages, she appeared to fall into a religiously inspired trance, repeatedly shouting "there is God-o!", a video of which went viral in Nigeria.

Load more