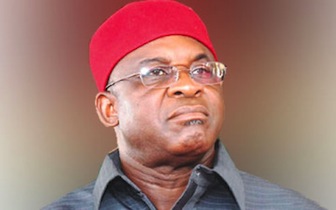 President of the Senate, David Mark, has described the call for an interim national government by some Nigerians as "imprecise, sordid and strange" to the 1999 Constitution as amended.
Mark stated this on Tuesday in Abuja at the resumed sitting of the Senate after its one month recess.
He said that the issue of polls rescheduling and the call for interim government had been given undeserved prominence across the country.
According to him, the Senate will not be part of any move to violate the provisions of the 1999 Constitution, which the lawmakers have sworn to uphold.
"I am alarmed that the issue of interim national government has been given underserved prominence in our national discourse.
"Interim national government is alien to the 1999 constitution as amended. Therefore, those calling for it are calling for an exercise in futility.
"This Senate is committed to the provisions of our constitution which we swore to protect and we will not do anything to sabotage the democratic process.
"It is important to note that on the 29th of May, 2015, a democratically elected government, through a free, fair, transparent and credible election will be sworn in," he said.
Mark called on the Independent National Electoral Commission (INEC) to use the six weeks election extension to continue to put measures in place to ensure a free, fair and credible election.
He also urged Nigerians to support INEC in its effort to conduct a transparent election, adding that all Nigerians, including lawmakers, should desist from making comments that would instigate violence.
"These are not ordinary times in our nation; there is palpable tension in the land. Comments and even the body language of the political class further exacerbate the tension.
"As statesmen and women, we must rise to the occasion and help reduce this tension. We must refrain from acts that will aggravate this already charged atmosphere across the country.
"I urge you, my distinguished bosses, to be dedicated to our constitutional duties as you have always done," he said.
He further urged Nigerians to be true statesmen and women both in words and deeds to douse the tension in the nation.

Load more