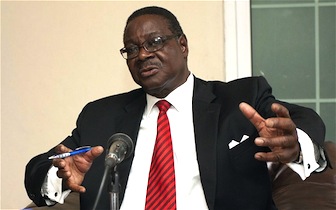 Malawi is poised to adopt a law banning child marriages in a country which has one of the world's highest rates of under-age weddings.
The small southern African nation's parliament last week unanimously approved the bill, which raises the marrying age to 18 from the current minimum of 16.
Rights activists and lawmakers say Malawi has one of the world's highest rates of child marriages, with some girls as young as nine or 10 married off.
Under Malawi's rules, President Peter Mutharika has three weeks to sign the marriage, divorce and family relations bill after its approval by lawmakers on Thursday.
"It's definite that the president will soon assent to this much-awaited law," said a senior official who did not want to be named as he is not authorised to speak to the media.
"The law is long overdue for a country which has serious problems of child marriages."
Advocates have long called for a child marriage ban in the impoverished nation.
The bill carries a 10-year prison sentence for those who defy the ban, said Gender Minister Patricia Kaliati, who has championed the legislation.
"We want to stop all perpetrators of child marriages. At 18, a girl is old enough to make her own choice," she added.
According to Faith Phiri, director of women's rights group Girls Empowerment Network (GENET), Malawi has the ninth highest rate of child marriages in the world.
Human Rights Watch said half of the girls in Malawi are married by their 18th birthday, with some forced to marry at as young as nine or 10.
"Malawi needs to set a lawful minimum marriage age to protect girls from the abuse, exploitation, and violence that results from child marriage," HRW said in a statement last year.
"Malawi faces many economic challenges, but the rights of the country's girls and women should not be sacrificed as a result."
Half of Malawi's 15 million population live on less than a dollar (about 90 euro cents) a day.
The United Nations late last year adopted the first-ever resolution calling on governments to stop child marriages.
About 15 million girls worldwide become child brides each year, and more than one in three were married off before age 15 globally, according to UNICEF.

Load more