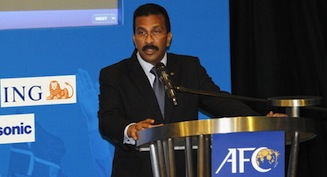 Asia's football body Tuesday urged other sports governing bodies in the region to follow its lead after the flagship Asian Cup passed off with no evidence of match-fixing.
Corruption has long plagued Asian sport but the Asian Football Confederation (AFC) said extensive planning and monitoring had kept the fixers at bay.
"The effective implementation of this action plan could be a blueprint for other Asian sporting events and sports governing bodies," AFC general secretary Alex Soosay said in a statement.
"Continued efforts will be made to ensure a similar outcome for future AFC competitions. Upholding the integrity of all our competitions remains a key priority for AFC."
Match-fixing concerns raised during the Asian Games and Suzuki Cup put the spotlight on corruption ahead of the Asian Cup, held in Australia in January and won by the host nation.
But education sessions for players and officials, a confidential reporting mechanism, and monitoring for unusual betting activity helped keep the tournament clean.
"The Asian Cup overall was a great success for football in Australia and the Asian region with record crowds and TV audiences," said Football Federation Australia CEO David Gallop.
"The integrity of such major tournaments is integral to the popularity and growth of football."