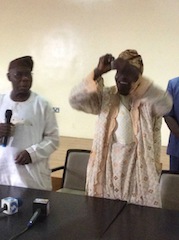 The Peoples Democratic Party believes that former president of Nigeria, Chief Olusegun Obasanjo should not have ripped his membership card like he did on Monday, stating that, no matter the provocation, he should have kept his calm.
In a statement issued by Olisa Metuh, PDP's National Publicity Secretary on Monday night in Abuja he noted that Nigerians were still dazed by the actions of Obasanjo.
"Many Nigerians are still bewildered as to disregard what manner of provocation that could have led a former president to lose his composure and go to the extent of tearing his membership card of the party he once led.
"It is our considered opinion that no matter the provocation, a states manly disposition from a person of Chief Obasanjo's status could have encouraged our citizens and progress stability in the system," the statement read in part.
Metuh was however optimistic of his party's chances at the polls, stating that, with an array of credible candidates led by Jonathan, its presidential candidate, the PDP was sure that it would emerge victorious in the general elections.
He said that the party had examined the circumstances and the reasons adduced by Obasanjo for his exit from it and politics.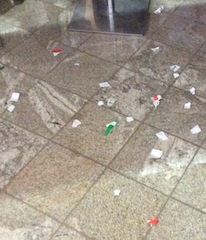 To this regards, he said that the party had conceded to the former president his inalienable right to hold opinion and to decide who to associate with.
He described Obasanjo as a "revered leader" of the party and its first presidential flag-bearer who it offered the platform to rule the nation for eight years.
The PDP spokesman said that the party was deeply saddened that Obasanjo could decide to abandon it at this critical point in time.
This, he said, was especially so as Obasanjo, who was also a former chairman of the highest advisory organ of the party, the Board of Trustees (BoT), discountenanced all pleas by elders and leaders of the party.
This, according to Metuh, was with regard to his reservations on certain issues within the party's fold.
Metuh expressed belief that what the country needed now was patriotic actions that engender national unity, tolerance and peaceful coexistence irrespective of political, ethnic and religious persuasions.
He, however, maintained that the overall interest of the nation and well-being of the citizens, must remain paramount and above all personal and group interests.

Load more