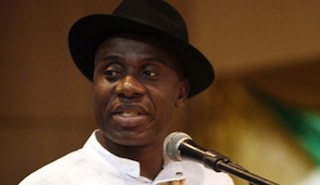 Governor Rotimi Amaechi of Rivers state has blamed the violence in Okrika, Rivers state on the wife of the president, Patience Jonathan while lamenting the death of a policeman at the rally ground.
Amaechi blamed Dame Patience Jonathan for the attack on members and supporters of the All Progressives Congress (APC) in Okrika and also for disrupting their campaign in Okrika Local Government area.
"Clearly the wife of the president does not want APC to campaign in her home, Okrika," Amaechi said.
Amaechi who spoke to journalists in Abuja after a meeting of APC leaders at the Shehu Yar'Adua centre condemned the act of violence and expressed disappointment over the inability of law enforcement agents' to ensure a hitch free campaign for the APC, despite having earlier assured the party of security and gave approval for the campaign to hold.
"Again, as usual, the wife of the president won't allow the APC hold rally in that place (Okrika). The wife of the president and the governorship candidate of Peoples' Democratic Party, PDP in Rivers again organized thugs to disrupt APC rally. As usual, the police couldn't protect us, we are talking about over 200 policemen. I asked the commissioner of police and he said they have over 200 policemen there.
"Yet, three explosions and then they opened fire on members of APC. The Channels TV reporter I hear, is injured, stabbed, and members of APC injured," he said.
"We had meetings with DSS (Directorate of State Security) and police and they confirmed we could go ahead. There were 200 policemen and there were over 20 to 30 DSS men who came there and they did nothing," Amaechi said.
Asked if Rivers state is ready to conduct elections, he said, "you should ask the President that question. He can postpone national election".
It would be recalled that three explosions went off at National Field, Okrika. This was followed by gun shots which left one policeman dead and Channels Television reporter injured.