Ayorinde Oluokun/Abuja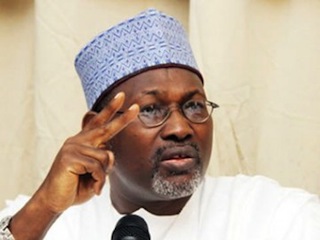 Professor Attahiru Jega, the Chairman of Independent National Electoral Commission (INEC) will face the Senate on Wednesday over the recent postponement of the dates for the 2015 general elections.
The issue of election postponement was one of the first assignment taken up by the Senate which resumed on Tuesday after long adjournment for primaries of political parties, Yuletide celebrations and political campaigns.
Senator Victor Ndoma Egba, Senate Leader drew the attention of his colleagues to the controversial shift in election dates from 14 February, for presidential and National Assembly polls and 28 February for governorship and National Assembly polls to 28 March and 11, April respectively.
Egba had in his motion which received wide endorsement from his colleagues said the Senate should summon Jega for further information on the election postponement and other logistics, especially on the use of card readers for the election. Egba said there is the need for the INEC Chairman to demonstrate the use of card readers to the lawmakers.
However, the suggestion by Senator George Akume, the Senate minority leader that the military chiefs should be invited by the Senators was rejected. He argued that they made INEC to postpone the elections over claims that they cannot provide security for voters and electoral officers.
While ruling on the motion, Senator David Mark, the President of the senate said the security chiefs will be invited based on what Jega say during his appearance before senators on Wednesday.
Mark ruled that Jega should appear before the senate in plenary Wednesday.
Meanwhile, Mark had earlier read a letter in which President Jonathan forwarded eight names to the Senate for screening for appointment as ministers.
As contained in a letter signed by Jonathan and read by Mark, the new ministerial nominees are: Senator Musiliu Obanikoro (Lagos state) Mrs.Patricia Akwashiki (Nasarawa); Mrs. Hauwa'u Lawan (Jigawa); Prof nicholas Akise Ada (Benue); Col. Augustine Akobundu retd. (Abia); Mr. Fidelis Nwankwo (Ebonyi); Mr. Kenneth Kobani (Rivers) and Senator Joel Ikenya (Taraba).
The Senate has not fixed a date for the screening.