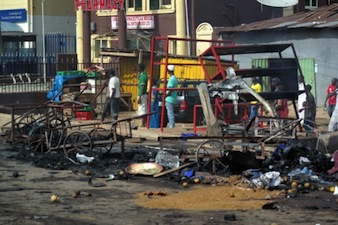 Two people were killed in a suicide blast at a restaurant in the northeast Nigerian city of Potiskum on Tuesday, a police officer, rescuer and a hospital nurse told AFP.
A bomber blew himself up inside Al-Amir restaurant, a popular chain in northern Nigeria, at about 4:40 pm (1540 GMT), killing the manager and a steward. Thirteen staff and customers were seriously injured.
"We evacuated three dead bodies which included the bomber and two victims to the hospital," said a police officer involved in the rescue operation. Another rescue worker and a nurse at the Potiskum General Hospital confirmed the toll.
The attack came about four hours after a similar on Biu.
The restaurant manager and a steward were killed, while 13 staff and customers were seriously injured, a police officer and nurse the Potiskum General Hospital said.

Load more