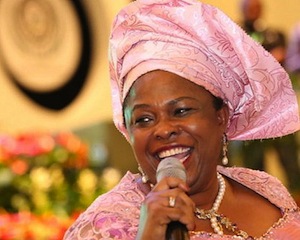 The wife of the president, Patience Jonathan has claimed that President Goodluck Jonathan's administration has done so much than any other administration in the 100 years of the existence of Nigeria, noting that, he deserves a second term in office.
She also urged Peoples Democratic Party women stakeholders to redouble their campaign efforts to ensure victory for President Jonathan in the March 28 presidential poll.
The first lady made the appeal at an extended meeting with the women, including female deputy governors, wives of PDP governorship aspirants and their deputies , and women leaders at the Presidential Villa on Tuesday night at the Presidential Villa.
"Let me remind you of the need to take advantage of this extension to intensify our campaigns in order that we realise our resolve to vote for the re-election of President Jonathan and his inauguration come May 29, 2015.
"Let us work harder and mobilise the people in our various states and communities to vote for the PDP candidates at all levels of the elections.
"We will continue to discuss and chart the way forward towards ensuring the success of PDP candidates in the March 28 and April 11, 2015, elections," she said.
She also reminded the women that the Goodluck/Sambo administration has demonstrated strong faith and commitment to the empowerment, elevation, emancipation and total transformation of Nigerian women.
The first lady added that the present administration had done so much than any other administration in the 100 years of the existence of Nigeria.
"Remember, we need to work together with a single focus. We need to intensify our campaign and reach out to every Nigerian to showcase our party and our candidates," she said.
She, however, Jonathan thanked the women for their demonstrated efforts, commitment and dedication so far.

Load more