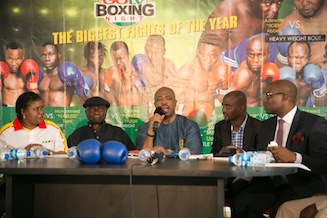 As part of preparations for the second edition of GOtv Boxing Night, a GOtv boxing seminar holds 10:00 a.m. today at the Old Skool Restaurant, National Stadium in Lagos.
The seminar, which is open to professional boxers and managers, will address sensitive topics such as 'Boxers' Conduct and Image', 'Managing Your Boxing Career', 'Boxer/Manager Relationships' and 'Safety Inside the Boxing Ring'.
The topics will be handled by an impressive cast of speakers that include boxing greats, Obisia Nwakpa and Joe Lasisi; Joe Mensah, accomplished boxing coach; Effiong Nyom, decorated sports journalist; Remi Aboderin, Secretary-General, Nigerian Boxing Board of Control; Jenkins Alumona of Flykite Productions and Dr. Chike Ilukwe.
The seminar will culminate with a photo shoot for participating boxers at the GOtv Boxing Night which holds on 23 March at the Indoor Sports Hall of the National Stadium, Lagos.
GOtv Boxing Night, a six-fight event for professional boxers, made a successful debut on 23 November 2014 as part of the first steps to revive boxing in Nigeria.
In addition to the boxing bouts, boxing greats and administrators of the sport were recognised at the maiden edition, which held at the Indoor Sports Hall of the National Stadium in Lagos.

Load more