Honourable Solomon Olamilekan Adeola, a member of the House of Representative and a chieftain of the All Progressives Congress (APC) has squashed rumours that he is dead.
Adeola popularly referred to as Yayi, said that rumours of his death was a lie, stating categorically, that he is alive and well. In a post on Facebook, Adeola posted a picture of himself in his office, urging Nigerians to ignore rumours of his death.
"Please ignore any rumour of my death. Here I am with Honourable Bago in my office at the National Assembly Complex, Abuja," he wrote.
Adeola who is APC's senatorial candidate for Lagos West is presently the chairman of the House of Representatives Committee on Public Accounts.
It would be recalled that on 23 January, leaders of the APC, in Alimosho, Lagos state claimed that thugs of the main opposition party, Peoples Democratic Party are watching Yayi and intend to assassinate him.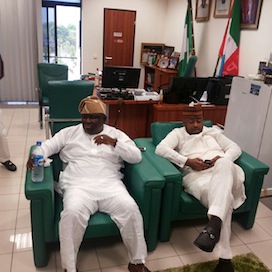 Narrating how the incident happened at a press conference, Bisi Yusuf, representative of Alimosho Constituency 1 at the Lagos State House of Assembly, alleged that the thugs targeted candidates of the APC.
"They have put surveillance on me, Yayi (Solomon Olamilekan) and Adebanjo. If anything happens to any of us, you should ask Obanikoro and the others," he said adding that he reported the case to the police few minutes after it happened on Friday.
Similarly, APC Publicity Secretary, Joe Igbokwe accused Segun Adewale, PDP candidate contesting against Adeola for the senatorial ticket for Lagos West of an assassination plot.
"On Sunday, February 1, 2015, Mr. Segun Adewale, the PDP Senatorial candidate for Lagos West led armed thugs and supporters to the Ikeja Office of the APC candidate in the same zone, Solomon Adeola Olamilekan and fired shots into the office and in the process destroyed the rear windscreen of Yayi's Toyota Land Cruiser and other properties.
"It was an assassination attempt on the life of our candidate Yayi but Adewale failed woefully. Segun Adewale in apparent display of impunity and brigandage brazenly admitted that he went to attack Yayi because his campaign materials are being removed by Yayi's supporters. This matter has been reported to the commissioner of police Lagos State and we wait for action," Igbokwe stated.
By Seun Bisuga

Load more