Before he quit the ruling Peoples Democratic Party, PDP, on Monday, 16 February, 2015, former President Olusegun Obasanjo, spoke with some journalists at his Abeokuta Hilltop mansion after his arrival from a tour of some countries. He dwelt on the postponement of the general elections, his assessment of the two leading presidential candidates and other burning issues of the moment. Our Ogun State Correspondent,  ABIODUN ONAFUYE was there
Sir, you have been away for sometime now and a lot of things have happened in your absence, for instance the postponement of the general elections and the plot to sack INEC Chairman. What is your take on all these issues?
I am surprised. Yes, I was away, I left Nigeria for a number of assignments which took me to Morocco, Munich, Nairobi, London and New Delhi. I was in Munich for what they call 'Munich Security Conference', an annual event where the global security community discuss many issues. Among those that were there were the American Vice President, Joe Biden; USA Secretary of State, John Kerry, Ukraine President, German President and a host of other world leaders. I was there with Koffi Annan and were to talk about peace and security in Africa. I was to handle the African perspective while Annan was to talk about the other aspect and suddenly people started asking me about what was happening in my country. The Americans, Germans and Koffi Annan were particularly agitated. While I was outside the country, I refused to make any categorical statement on this issue because I wanted to come back home and learn at first hand what actually was going on.
It turned out that it was a forced decision on the INEC, because it was alleged that the security chiefs were unable to provide security and as a result the Chairman of INEC, Prof Attahiru Jega, had to postpone the elections in accordance with the dictate of the so-called security chiefs. I thought for me, that was a bad precedent for democracy in Nigeria. It means that it does not matter what preparation or lack of preparation any electoral body makes in Nigeria;  the final decision about whether election will take place on the day scheduled lies in the domain of security chiefs. The day the decision was taken was a sad day for democracy in Nigeria and I will say that we all must feel concerned before democracy is killed. What is observable and what would appear to be happening is that the President has a grand plan to ensure that by hook or by crook he wins the election or if it all he fails, he scuttles it and creates chaos, confusion and unpleasantness in the whole country. It is the responsibility of the security officers to provide security. The President is the Chief Security officer of the country and the Commander-In-Chief and if security is required anywhere, anytime, it is his duty and responsibility to provide it. Where security is lacking, it is dereliction of duty, pure and simple.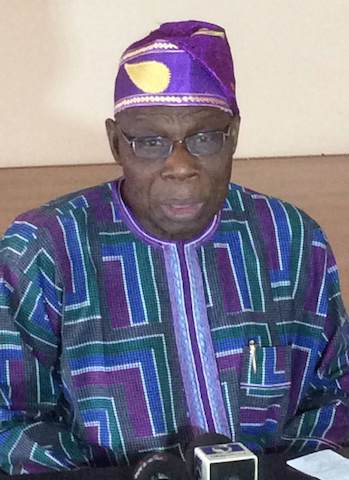 It is either the President is following his own grand plan or he and his associates are playing a script which of course, must have gotten his endorsement, if not initiated by him.What again will look to me as his plan is that the President is trying to play Laurent Gbagbo. Gbagbo was the former President of Cote d' Ivoire. And Gbagbo made sure he postponed the election in his country until he was sure he would win. He then allowed the election to take place and he got an inconclusive election in the first ballot and I believe this will be the sort of thing Nigeria may fall into if am right in what I observed as the grand plan. And in the run off, Gbagbo lost with 8 percent votes behind his opponent, Ouattara and then refused to hand over power. All reasonable persuasion and pleas were rebuffed by him and he unleased horror in that country until nemesis caught up with him. I believe that we may be seeing a repeat of Gbagbo or what I call "Gbagbo Saga" here in Nigeria. I hope not. That is why I said it was strange to me. It is not the duty and responsibility of the Security Chiefs to tell INEC 'we cannot provide or we are not in the position to provide security for you' because it is their job and if they cannot do it they might as well go home. Their job is to maintain law and order and provide security and if at anytime, any place, they say they cannot do that, then they have failed. Now, I want to believe that this was forced on them. Whether it was forced on them or it was their own initiative, it was bad, very bad. I hope we will never have a repeat of this in this country again because the unfortunate thing is this, it is over exposing themselves or they have been over exposed by whoever brought about that way of doing things and for me, a momentous decision like that cannot be made by the Security Chiefs.
The matter was made worse during the President's media chat on the 11th of this month when he said he was not aware of it, had no knowledge or not to have authorised it. So, I get very worried that if the President of Nigeria is not in charge of security, maintenance of law and order and such a decision can be taken behind him, assuming that, that is true, then the President must be reigning and not ruling. And then who are those ruling us behind the scene? Who are they? It means that one day, we will wake up and discover that this country has been plunged into chaos, into commotion, into confusion and the President would tell us that he does not know about it. Of course, the President can run, but he cannot run faster than God. He has constitutional responsibilities and to claim he does not know is not an excuse. So, I do hope that those Security Chiefs whom we are proud of, the security chiefs  me and others like me are proud of,  have been rendered impotent. We are proud of what they are doing, we will not allow them shame themselves and shame us because what this amounts to is what in the military we call very unmilitary conduct, conduct to the prejudice of good order and military discipline. The excuse for me, you can give any excuse or you can give any rationalisation or you can rationalise anything. Look, Boko Haram problem has been with us since 2009 and now you say what we have not been able to achieve since 2009, we will achieve in six weeks. Well, all I will say is that God is a God of miracle, God can do anything, but let us wait and see. Look, countries like Syria had election, they have full scale war all over the country; countries like Iraq had elections, they had full scale war and they still had the elections; countries like Afghanistan had election, they even had election where the incumbent lost and had his term ended and he moved out of office. Even countries like Colombia where they have FARC, their own insurgent group was active for more than 50 years. They have been regularly having elections and FARC is still very much active. So, to say that what you have not been able to achieve in five years, you will now achieve in six weeks, let us wait and see. That will be my view. Already, I think when people want to give excuses, they should give excuses that are tenable. Now in any case, the argument also is that there would be a multi-national joint task force made up of five countries, the Lake Chad basin countries: Nigeria, Cameroon, Niger, Chad and Benin Republic. I happened to be at the last AU meeting in Addis-Ababa, when this issue was being discussed. The four countries concerned commented very well but Benin Republic did not speak. The four countries that were concerned were talking of a force of about 7,500 and one of the Presidents not from the Lake Chad Basin nation, but from Southern African country said: "look, what are we here for, if it is to endorse these countries to have a multi-national joint task force? That is the easiest thing to do. Let us say YES and go ahead. Do they really have to come here if their sovereignty is being threatened? Do they need to come to us before they fight to save their sovereignty? And if they are serious, because that is another thing, with what they are asking for, would they be asking the UN to come and pay for the operation of the multi-national joint task force?" That President came to me after the meeting and said, "my dear brother, is it really true that Nigeria cannot fund the force of 7,500 troops, if that is all that is needed to defeat Boko Haram?"  Of course, if for show of solidarity, I believe that yes, a task force of that number may be okay, but, if you really want to get the job done, the job will be done by Nigeria's troops who are properly trained, properly motivated, properly equipped, with high morale and properly led, not asking for joint force elsewhere. What forces do we have in these other countries? For a country like ours, of over 180 million people and the resources that we have, I believe it leaves a little bit to be desired. So,  let us see how they are going about it, maybe, as I said, something monumental would happen.
What then would you say is making Mr President afraid to conduct election? Or would you say that President Goodluck Jonathan is afraid of life after office?
I believe that the President's concern is not being out of office. We have had occasions to talk about this, both seriously and jovially. I believe the President wants an opportunity to disengage peacefully and have a nice, decent and a glorious exist. I believe the President's fear is particularly motivated by whom he sees as his likely successor, that is General Muhammadu Buhari. I believe people would have been telling him that 'look, Buhari is a hard man, he will fight corruption and you may end up in jail, if not in the grave'. I think people would have told him that sort of thing and he is not the only one that is afraid of Buhari. There are many others.  I will say that Buhari should have learnt his lessons. If he has not learnt his lessons, he would be probably the most unlearning human being. Now, if he had learnt his lessons, he should know that you do not fight corruption by putting people in jail for 200 years. This has been done and proved by my own predecessor in office, Gen. Abdulsalami Abubakar.  He recovered over 750 million dollars from Abacha's loot without putting anybody in jail, without harming or hurting anybody. When I took over, we recovered over 1.25 billion dollars from the same Abacha loot without hurting anybody, without harming anybody and in fact, what would be rather unfortunate is the fact that our lawyer, who is still alive and who is still able, who was chasing these monies all over the world for us then, said to us that there is still about well over 1 billion dollars to be recovered from Abacha's loot. The unfortunate aspect of that is that my successor cannot do anything about it, and the man there now, even though it was in my hand over note. So, I do not think the President is afraid of being out, but as I said, when we talk about this and I said there is life after Aso Villa, it will depend of course, to a large extent, on how he descends or how his descent takes place and how his exit takes place.
The All Progressives Congress, APC, Presidential candidate, General Muhammadu Buhari has been an advocate of corruption eradication in the country and that has been part of his campaign all over the place. How would you assess his anti-corruption stance?
Corruption must not remain a part of our national life, it must not be part of us. Whoever at anytime in future will stand to fight corruption, we must encourage such person and as well urge our young successors to fight it. Corruption, recklessness and impunity must not continue to be part of our way of life, whether it is recklessness and impunity in management of our economic affairs or  our finances or even in political affairs now, that must not be allowed to remain our part of life. With these reasons and his track record, like I said, I will look at track records of candidates to see what they can do or what they cannot do and to see where I go and where I do not go. I believe he will fight corruption, he had tried to do it before. I believe that he will give firm leadership which is necessary for a country like ours. I believe of course, when he was there before, he was in the military and the military government is both the executive and legislature combined. In a democracy, that is not possible. They are separate. I believe he knows the military, the damage that has been done to the military now because the military has been rendered almost impotent by a number of things that have happened. I believe he will do something about it and if he does not do it, then shame on him. I believe that he can preside over an efficient, an effective economic team. He has the knowledge, he has the experience, he may not be a ball of fire as an economist, but he can preside over it.
What is your view about the revelation recently over the last governorship election in Ekiti State? A Judge was also slapped in the state and a lot of other things have happened there…
 I don't want to comment on Ekiti State, because Ekiti State is a great disaster and it will continue to be so.
There was this rumour that the Presidency is planning to remove INEC Chairman, Prof. Attahiru Jega. What is your comment about this?
I think the President in that interview during the last Presidential  media chat dispelled that rumour, but of course, I know the President very well. I will want to believe him. I will only believe what I see and not what I hear. I believe that after Jega had been boxed to a corner, he had no choice but to accept the faite accompli and postponed the elections. And I believe that it is unfortunate because in the past, this same Jega had changed the date of elections when he found out that it was not suitable. So, it is the duty and responsibility of INEC to determine whether the situation allows or does not allow them to go on with the elections. That is their job, nobody should either twist their arms, blackmail them or force them. If anything is done to remove Jega, it will actually heighten the doubts of people about the President wanting to have a fair, free, transparent and credible election. And even if the President wins the election genuinely, many people will not believe it. He would have undermined the credibility of the result of the election, but like he said, that it is a rumour and let it remain in the realm of rumour and let us hope for the best.
As it is now, what is your advice, as an elder statesman, to all those that are concerned about the elections, especially Nigerians?
I have offered some warnings, but let me also offer some appeals and the appeals for me will be for President Goodluck Jonathan. I want to appeal to him not to do anything to destroy the fledging democracy that we are enjoying. Democracy is not a destination, it is a process and the more we strengthen the process of democracy, the institutions and the factors the better it is for us. Again, I will appeal to Jonathan not to listen to those that are creating phobia, phobia of Buhari, phobia of enquiry and all that. President Jonathan has done well to the best of his ability and he has made history as the first elected President of Nigeria from a minority tribe, nobody can take that away from him. He can even make a second history, if it turns out that way. If he conducts a fair, free and transparent election and if he refuses to go back to the office, he would have a dignified descent and a dignified exit. He will be on the mountain top and he will be even acclaimed as a true patriot and democrat. I will want to appeal to the PDP and the APC. As the two major political parties, they have responsibility for ensuring the continuation of our present democratic process and if any of them does anything to short circuit or cut short the process, it will be very disastrous. I also will like to appeal to General Muhammadu Buhari that if he wins, one of the things he should do is to allay the fears of those who see him as a threat, particularly in the area of human rights, the area of rule of law and in the area of obedience to our constitution. And to all Nigerians, we all have a stake and say in what is going on. Don't let us think and say that there is nothing I can do, we have a lot to do. So, let us join hands to move this country forward. I believe that where we are today, we should not do anything that will set us back. There is limit to what you can get away with as a human being and as a leader. No leader should see himself as being above the law. There is what we call elastic limit. For me, I would not stop in doing things that will unite, strengthen and move this nation forward. There is nothing better than democracy. And for those who are pushing Mr President, he should be very careful. When the chips are down, he will be naked and they would mock him by saying,'we told him, he no dey hear'. Finally, I will want to wish President Goodluck Jonathan every good wish. I will want to wish General Muhammadu Buhari every good wish and every Nigerian every good wish too. I had said I would not say anything until after the elections, but now that the elections have been postponed, I was 'forced' to talk and I would not say anything again until after the elections. Thank God and God bless Nigeria.

Load more