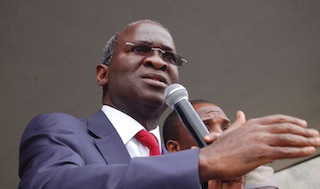 Governor Babatunde Fashola of Lagos state on Tuesday appealed to health workers in the country to stop embarking on frequent industrial actions to pursue their demands from their employers.
The governor made the appeal in Ikeja while speaking at the state's Council of Health Meeting, he noted that the frequent strikes embarked upon by doctors and other health professionals were a threat to humanity as they had resulted into needless loss of patients' lives.
Fashola said health professionals were like God on earth, urging them to always answer their calling to save lives above other personal or professional interests. "One of the professional groups that should not go on strike are doctors and other professionals. Doctors and others are like God on earth, because they save lives and the rest of us really need them.
"I do not know how physicians see themselves, but I know how I see them. When you are sick and you can't do anything, you would know how important physicians are.
"A Physician is the only person who can tell me to take off my clothes and I will obey him. A physician is the only person who can tell you not to go out on a particular day because you are not fit.
"Health professionals are so important to us because they save our lives by healing us. So I appeal that no matter the level of provocation or disagreements with their employers, they should find another way of reaching a consensus.
"Strikes should not be the option. They should be concerned by the lives they save. They should be concerned about their patients who suffer during such industrial actions," he said.
The governor said the government was committed to building a harmonious relationship with health professionals in its employ for improved healthcare services.
Fashola said qualitative healthcare had been at the forefront of his administration`s agenda and the government had done a lot to improve healthcare in the state.
He said his government had built seven Maternal Child Care facilities across the state to improve infant and maternal health, while three more would be completed before the end of the year.
The governor said the government had also built a Cardiac and Renal facility in the state to provide specialised services for people with renal and cardiac issues.
Fashola said the government had also built flagship primary health centres across the state to improve primary healthcare at the grassroots.
He said that an additional school of nursing had been built in Alimosho area of the state to improve capacity building, while many health professionals had been trained.
The governor said the Lagos State University Teaching Hospital had been strengthened and the state`s foremost gynaecological centre, Ayinke House was being rehabilitated for improved services.
Fashola faulted the penchant by Nigerians to always seek medical care abroad, saying government was putting in place the necessary health infrastructure to discourage the practice.
"Seeking medical care abroad has a lot of cost implications. We are in a period of depleting revenue and we need to cut costs. What we are putting in place is the right health infrastructure that will provide the same care that Nigerians travel abroad to seek," he said.

Load more