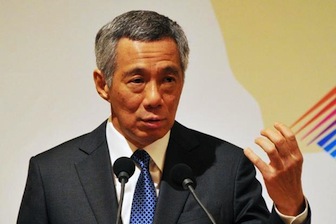 Singapore Prime Minister Lee Hsien Loong was discharged from hospital Wednesday after undergoing surgery for prostate cancer and his doctor said he should make a full recovery.
Lee, 63, posted a photo of the view from his hospital window on his Facebook page with the caption: "Day 3 — Sunrise over the city. Met the doctors just now. I am going home this morning!"
His office later issued a statement saying he was discharged from the government Singapore General Hospital.
"PM's pathology report is good. The disease is small but potentially significant," his doctor, Professor Christopher Cheng, said in the statement.
"We are very glad we are able to detect and remove it in time. PM should make a full recovery."
Lee, son of the city-state's founding prime minister Lee Kuan Yew, 91, underwent surgery on Monday after tests in January confirmed the prostate cancer.
It is the second bout with cancer for the prime minister, who underwent chemotherapy for lymphoma in 1993 and is now in remission.
Doctors said the prostate cancer was not linked to his previous lymphoma.
Lee has been prime minister since August 2004.
News of his illness came amid widespread expectations that the next general elections will be held before they are due in early 2017, possibly this year.
In the last polls, held in May 2011, Lee's People's Action Party, which has governed Singapore since 1959, suffered its worst setback after a large district was wrested by the opposition and its share of the popular vote plunged.
After the election, Lee launched reforms to address voters' gripes over the large influx of foreign workers and immigrants into the compact city-state as well as the rising cost of living.
Before entering politics, Lee was a brigadier-general in the Singapore Armed Forces.

Load more