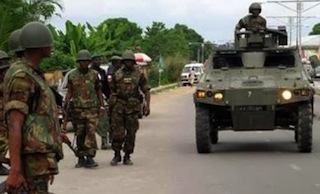 The Nigerian Army said it would provide security for election materials and officials of the Independent National Electoral Commission (INEC) during and after the forthcoming elections.
Brig.-Gen. Koko Essien, Commander, 2 Brigade Port Harcourt, disclosed this on Thursday while addressing newsmen in Port Harcourt.
He said the Army was willing to deploy troops on ground and on waterways to subvert any form of ballot box snatching and violence at the request of INEC.
"We have a mandate to support the success of these elections, and so, my men will provide security to INEC officials and materials on ground and waterways in a constitutional manner.
"Come March 28 and April 11, people should feel free and come out to vote any candidate of their choice because we are working with other sister security services to provide a top notch security.
According to Essien, the military and particularly the Army, will not condone any act of political thuggery by anyone in the state to subvert the forthcoming elections.
He urged the people to come out en-masse and participate in the elections, saying that security would be tight.
Essien, who recently assumed Command of the Brigade, said the army had adopted new strategies to be able to drastically reduce oil theft, pipeline vandalism and rising cult activities in the state.
He called for media partnership and support in the fight against oil theft and pipeline vandalism in the state.