The National leader of the All Progressives Congress, APC, Asiwaju Bola Tinubu has insisted that the Independent National Electoral Commission, INEC, must use card reader for the coming elections as the party would not allow the Peoples Democratic Party, PDP, to rig the elections.
Tinubu spoke at the APC stakeholders' meeting at its Lagos Secretariat, Acme Road, Ogba, Lagos, southwest Nigeria, on Wednesday.
Also at the emergency meeting were Governor Babatunde Fashola, the APC governorship candidate in Lagos State, Mr. Akinwunmi Ambode and Chairman of the party in the state, Chief Henry Ajomale.
Tinubu alleged that the PDP had  been buying up PVCs and VIN numbers of voters at the cost of N10,000 not to win the election but to de-populate those who are interested in voting for APC.
"PDP is jittery; they are afraid of defeat and pressured INEC to shift the elections. On our part, we are ever ready. They have been buying peoples' PVCs and destroying them because they know they cannot use them. They have embarked on de-population strategy.
"We are training some of our party members to be vote canvassers, vote defenders and we will train them to be everything in ICT so that they will be able to post election results to us. There is no way for PDP rigging. Though the party does not want card reader to be used, we are insisting it must be used. PDP can't rig us out," Tinubu said.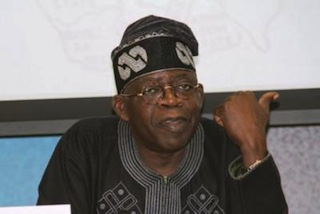 He further alleged that Lagos PDP governorship candidate, Jimi Agbaje was behind some political violence that sometimes involved shooting that injured some people in Lagos.
"They have started shooting at us. We'll be on the street for them; they tried it in Osun State, they failed. I can't understand why they turned people they want to govern to squirrels. Lagosians should be careful not to vote Agbaje. People should vote Akinwunmi Ambode because he has been tested, trusted and we understand his capability. He is financially sound and can do the job," he said.
The former governor also decried nonchalant attitude of people of Lagos in collection of Permanent Voter's Cards, PVCs, as the figure released by INEC showed that only 62 percent of Lagosians had collected the PVCs.
He urged party members, council executive secretaries, members of the State House of Assembly to go back to their wards and units and sensitise people who registered to go and collect their PVCs.
Speaking at the meeting, Fashola said party leaders had engaged in series of meeting to solve the problem, urging members to re-double their efforts to ensure registered voters in their neighbourhood go and collect their PVCs.
Also, Ajomale appealed to APC supporters to go back to their wards to promote the party and tell the people what the APC had been able to put in place in Lagos in the last 15 years compared with PDP's 15 years at the federal level to know that the difference is clear.