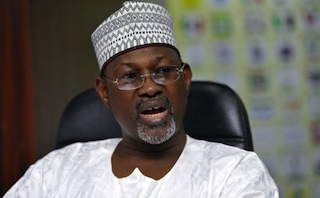 The Nigerian Senate on Wednesday expressed confidence on the Independent National Electoral Commission's (INEC) readiness to conduct free, fair and credible elections.
The Senate President, David Mark, disclosed this when the Chairman of INEC, Prof. Attahiru Jega, briefed the house and demonstrated how the card reader would be used during plenary.
Mark, who expressed satisfaction at the demonstration of the card reader and the level of preparedness of INEC, said that the session was beneficial.
"We have so much confidence that you will organise free, fair and credible elections; indeed all of us who are standing for election in the Senate will like to come back.
"We will like to win our election but we want to win in free, fair and credible elections. I can say that nobody seated here wants to come back through the back door.
"It is for us to assist you to conduct free, fair and credible elections and whatever we can do between now and the date you have chosen for us to go for the elections, we will not hesitate to do. I believe that you have benefitted from this interaction; we have also benefitted.
"A number of issues have been raised and they are pointers to the way you will like to look at the administrative and technical issues that have also been raised.''
Mark urged all senators to utilise the commission's email address to report any problems they might be experiencing in their constituencies relating to the elections.
Sen. Bukola Saraki (APC-Kwara) in an interview after the session, said he was satisfied with the card reader demonstration on the floor of the Senate.
He said "I am very satisfied with the working of the card reader; it has shown that it does work.
"I think everybody will be more convinced that for this election, we will be using the card reader.''
Sen. Ita Enang (PDP-Akwa Ibom) also expressed satisfaction with the demonstration but expressed concern if the card reader was unable to accredit all voters in polling units with high number of voters.
The INEC team demonstrated the use of the card reader using PVCs of some senators present.
Professor Jega clarified that the card reader is not to be used for voting proper but for accreditation and that its would help eliminate electoral fraud.
"We have worked together with all registered political parties and agreed on what to do if the card reader fails or if there is a voter without a finger.
"In the highly and likely event that a card reader fails, we have enough spares to deploy before the end of accreditation by 1:00pm and then adjust the time to gain for lost time where or if a card ready have failed.
"If we cannot replace before the end of accreditation, then the election in that particular voting point will be postponed to the following day when a new card reader would be provided for the election.
"We agreed with political parties to do this because if you say; if a card reader fails then revert to manual, we are worried that everywhere, it will revert to manual because there are many people who do not want the card readers to be used," he said.