Bolatito Adebola
A new comedy series titled Akpos & Company is about to hit the TV screens in Nigeria as it is set to redefine comedy in contemporary Nigeria.
Akpos & Company, a family drama, will hit the TV screen in the next quarter of the year. It was produced by Mike Nliam and directed by Abay Esho.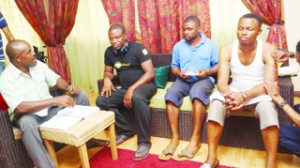 The new sit-com features amazing actors like Florence Onuma as Lovinna; Jerry Onwordi aka Baba Nothing Spoil as Ajaka; Eliel Etete as Old Soldier;  Mario Davidson Omasoro as Akpos; Adaeze Jacqueline-Ajah as Akpos' sister;  Wilson Irabor Brown as Goddy.
"Akpos is a global fictional story. What we are trying to do is to bring Akpos to life. Akpos is a comedy that all family members will love to watch and laugh and identify with," said Esho, who also directed Spider,  Heaven's Gate, Dear Mother and Safari.

Load more