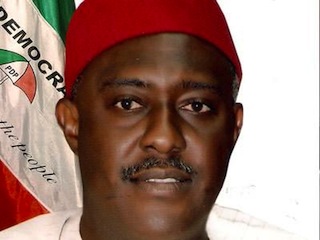 The Peoples Democratic Party (PDP) has accused the All Progressives Congress of playing politics with religion after the party claimed there was a plan to disrupt the postponed elections again.
Olisa Metuh, the PDP National Publicity Secretary, made the accusation in a statement issued on Thursday.
"The alert by the APC that certain desperate politicians were planning to circulate leaflets in mosques and churches to urge people to vote on religious leanings was an unintended leak."
This, the statement said, "had come from the APC's massive arsenal of religious bigotry and viscous divisive politics."
It held that the PDP needs neither religious nor ethnic cleavages to campaign and win the 2015 presidential elections.
"Our history of consistency in form, structure and core values and track record of delivery, which have endeared us over the years to Nigerians have not changed.
"We, therefore, remain the best and do not need recourse to narrow politicking, especially when our presidential candidate, President Goodluck Jonathan epitomises the unity, progress and prosperity of the nation," the statement said.

Load more