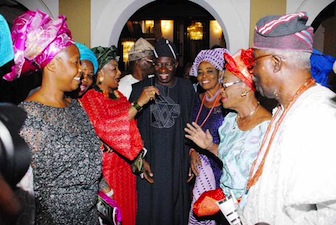 President Goodluck Jonathan is optimistic that Nigeria's story will change in the next two or three weeks as it continues battle Islamist sect in the northeast of the country, noting that, the country should not be viewed from the terrorist point of view alone.
The president made the statement when he received the Yoruba Council of Elders Council (YCE) at the State House, Marina, Lagos.
"Yes, we have issues in this country. Even issues of security, like this Boko Haram, because we are managing a very delicate situation.
"Sometimes people define Nigeria by the Boko Haram.
"Nigeria cannot be defined based on Boko Haram alone. There is terror all over the world.
"We have unfair share of the terror. But luckily with what is happening now, I tell people that in the next two to three weeks, this story will change.
"Because we have got the equipment that we can withstand the excesses of the Boko Haram.
"That is why these few days, you will see that the movement, we don't want to say much, is going on gradually.
"My belief is that in the next three weeks or so if we don't completely take over all our territories, we would have handled the Boko Haram to the extent that it will no longer be a problem to the elections that will come up."

Load more