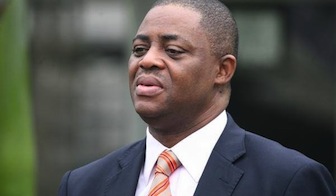 Femi Fani-Kayode, Director of Media and Publicity, Presidential Campaign Organisation of the Peoples Democratic Party (PDP) has claimed that Governor Rauf Aregbesola and his party, the All Progressives Congress rigged his re-election victory in August 2014.
Fani-Kayode described the All Progressives Congress's latest footage of a purported meeting involving some PDP leaders in the southwest which reflected attempts to rig the 2014 Ekiti governorship election as "petty and despicable".
"Rather than attempting to orchestrate rigging, the audio clip clearly reveals Fayose expressing concerns that the military commander was not acting on information," he said.
He said the governor and the others captured in that clip were apparently worried that safety of voters and INEC officials could be compromised if security measures were not strictly enforced.
He, therefore, said the APC failed to carry out critical content analysis of the discussions in the audio clip before rushing to town with it.