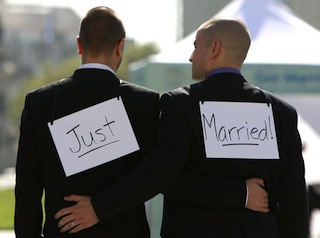 Ireland is planning to hold a historic referendum on lifting a ban on same-sex marriage on May 22, Irish Prime Minister Enda Kenny's office said on Friday.
Kenny said the vote "sets out our image of a very tolerant and inclusive Ireland."
"This is about the tolerance and respect and understanding and sensitivity," he told RTE television.
If carried, the constitutional amendment would allow for marriage "in accordance with law by two persons without distinction as to their sex".
Polls indicate that the amendment will pass in the historically Catholic nation and follows the introduction of civil partnerships in 2011.
But polls also suggest many supportive voters have indicated "reservations" on the issue, which could narrow the lead currently enjoyed by the "Yes" side.
The debate had been largely subdued so far although the announcement last month by Health Minister Leo Varadkar that he is gay — the first openly homosexual cabinet minister in Irish history -– generated headlines around the world.
While the influence of the Roman Catholic Church in Ireland has waned in the wake of a series of child sex abuse scandals, Catholic groups are expected to play a major role in the pre-vote discussions.
In December, Ireland's Catholic bishops reiterated their opposition to same-sex marriage.
In a letter distributed to parishes, the bishops said "marriage means the union of a man and woman".

Load more