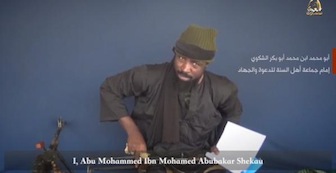 From grainy, amateurish footage and rambling, almost inaudible speeches to slick, expertly edited productions, Boko Haram's media strategy has undergone a transformation in recent months.
The Nigerian militants this week published two videos that contrasted starkly with earlier efforts, using visual cues and a style resembling similar messages from the Islamic State jihadists.
The marked change in both the form and content of the propaganda has led some to speculate on possible closer ties with the rebels in Syria and Iraq and whether an alliance could be forming.
But experts said there was no concrete proof of direct links as yet, even if foreign jihadis operating in the Sahel region may have had previous dealings with IS militants.
"The core leadership of Boko Haram and ISIS don't really have contact but a lot of their affiliates do for business purposes," said Yan St-Pierre, from the Modern Security Consulting Group.
Boko Haram's control of the Lake Chad area — on an established arms trafficking and smuggling route — had forced foreign militants to enter talks with them, he told AFP.
As a result, Boko Haram, an essentially home-grown rebel group with local aims at its inception, was increasingly open to international influence, he added.
– Changing quality –
When Boko Haram first began distributing video messages, the quality was poor. The images, shot on commercially available cameras, were burnt onto CDs or copied onto memory sticks.
They were then given to intermediaries and handed to media organisations in northern Nigeria, including AFP.
The videos — often ranting monologues from the group's leader, Abubakar Shekau, and up to an hour long — were frequently corrupted and could not be played.
Some improvements were seen from 2012, but the insurgents, who were known to have a media wing, still regularly sent uncompressed files of up to two gigabytes.
With the Internet connection slow and intermittent in northern Nigeria, even the transmission of shorter, edited clips was time-consuming.
Since December 2013, however, when militants overran a military base in Maiduguri, the use of more varied shots have become commonplace, including executions and harsh Sharia punishments.
On Tuesday, Boko Haram published a video for the first time via Twitter using an Arabic-language account after several posts on YouTube.
Both methods bypass the traditional media filter and allow the group more "control" of its message.
Tuesday's Hausa-language video — with English and Arabic subtitles and showing a more measured Shekau in sharp focus — was accessible on video-sharing sites often used by jihadists.
A short "trailer" on Thursday of Boko Haram fighters in action featured music, graphics and slow motion shots that recalled the Middle Eastern militants' propaganda.
Boko Haram has also released branded photographs on the increasingly followed account, purportedly of an attack on the northeastern city of Gombe last Saturday, as well as statements.
Aaron Zelin, a senior fellow at the Washington Institute for Near East Policy, said it was possible that Boko Haram's technical proficiencies had developed normally.
"But it seems striking to me how much of a difference there is in the past four to five weeks from how it was doing previously," he said.
"It seems to me there's some level of outside influence or trying to connect them to something."
– Dog whistle? –
St-Pierre described the use of foreign jihadi symbols in Boko Haram videos as an "open application" for a more formal alliance to IS group or Al-Qaeda by factions using the name Boko Haram.
Zelin suggested there was "heavy smoke but no specific fire" about foreign ties, against a backdrop of rumours that some Nigerian militants have pledged allegiance to Abu Bakr al-Baghdadi.
Shekau has mentioned the IS group leader previously but has not pledged allegiance.
Max Abrahms, a specialist in terrorist groups, from Northeastern University in Boston, Massachusetts, said he was less concerned with the technological advances.
"Terrorist groups are simply keeping in tandem with current times. We shouldn't be surprised," he said by phone.
But he cautioned against seeing any IS group influence on Boko Haram as one-way traffic.
Shekau's repeated tirades against popular jihadist targets the United States and Israel, could be a dog whistle to gain the support — or even mobilisation — of extremists further afield.
"Boko Haram has gained a lot of steam even with a very childish propaganda arm," he said in a separate email.
"What social media seems to do is bring in some members from far-flung corners of the world, most of whom will remain sympathisers from afar."