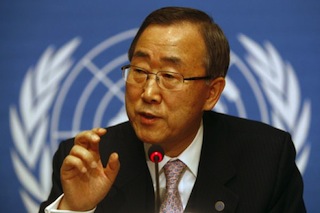 UN Secretary-General Ban Ki-moon strongly urged Nigeria on Friday to avoid another delay in holding elections and expressed concern over election-related violence.
Nigeria pushed back the presidential and legislative polls from February 14 to March 28 because of security fears as the army battles Boko Haram. Regional and parliamentary elections were moved to April 11.
Ban called on Nigeria's government and the elections commission "to ensure these new dates are maintained," his spokesman said.
The UN chief urged political leaders to "refrain from inflammatory statements and to immediately condemn any statements from their supporters that amount to an incitement to violence or subversion of the electoral process."
Ban has sent his special envoy, Mohamed Ibn Chambas, to Abuja for talks on the upcoming elections and efforts to fight Boko Haram.
Led by Chad, countries in the region are putting together an 8,700-strong force to battle the insurgents, but Nigeria has been criticized for its weak response to the violence.
Chambas last week said Nigeria's military needed to "demonstrate greater resolve" in the fight against Boko Haram.

Load more