Okafor Ofiebor/Port Harcourt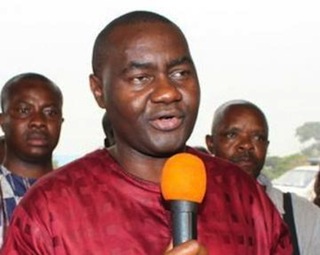 The senator representing Rivers South-East and APC candidate for the forthcoming senatorial election, Senator Magnus Abe, has condemned in strong terms the attempt on the lives of APC faithful, including his party' governorship candidate, Dr. Dakuku Peterside, at Okrika.
Abe wondered why anybody would for the sake of politics unleash terror on law abiding citizens whose only offence is engaging in legitimate political campaign in a part of the state.
He said no Nigerian deserves to die for identifying with a political party and campaigning for votes, describing the perpetrators as enemies of peace and the nation, who value sitting in power above the lives of innocent Nigerians. Saying "what happened at the APC rally at Okrika was unfortunate for our democracy and the freedom associated with it".
"Why would anybody unleash terror, violence and plot to kill people because of politics? Politics was there before we were born, and will be there even when we have left the stage; if you kill the people you plan to govern who will you govern," Abe queried.
The senator decried the persistent politically motivated attacks on APC members in Rivers state, but disclosed that Nigerians were wiser and could not be intimidated or cowed in the quest for change towards a country that is free from corruption, impunity and insecurity.
"What we are experiencing is the reign of terror by people that know their days in the leadership of our country are numbered. Nigerians are ready for change and our votes will count," the APC Rivers South-East Senatorial candidate said.
He praised the peaceful disposition of APC members in Rivers state in the face of unjustifiable attacks, urging them not to allow the situation compel them into retaliating in the interest of the State.
Abe who is the Senate Committee Chairman on Petroleum (Downstream) observed that the attacks have taken a new dimension with the killing of security operatives. He restated his appeal to Nigerians to reject politicians who encourage political violence.
Senator Abe commended the efforts of the police during the Okrika attack and the Inspector General of Police, Suleiman Abba for ordering a full scale investigation into the shooting that claimed the life of a police man and left many others severely injured.
He urged the IGP to convince Nigerians that the force was determined to fight crime and support a free, fair, credible and non-violent 2015 elections by treating the Okrika incident as a test case.