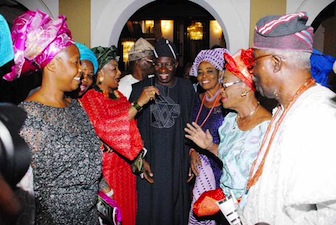 Yoruba Council of Elders (YCE) have told President Goodluck Jonathan that all they want is good leadership in Nigeria, noting that, the future of Nigeria was paramount on their mind.
President of YCE, Gen. Adeyinka Adebayo (rtd.) commended Jonathan's administration for offering good leadership to the country.
"Your Excellency, our great President, we don't need to waste any time today. We have introduced ourselves to you.
"We know you very well and we know the elders on the high table. We are pleased that we are here today to see you face to face and to thank God for what you are doing for the country and we hope all will be well for the country.
"We do not need to talk too much. Our clock is going on. We want to talk about what we want for the country and the future.
"What we want is good leadership with peace and love for the generation of our great country and for good leadership for a great country in future."
NAN reports that the YCE is made up of men above 60 years and women above 50 years from the Yoruba race and cuts across religious, professional and political divides.
In his response, President Goodluck Jonathan appealed to politicians to do all they could to preserve the country's unity.
The president made the appeal when he received the YCE at the State House, Marina, Lagos.
According to him, there has to be a country before any one nurses aspiration to be in governance.
"No matter what we want to do, that is those of us who are aspiring to run this country or even at the state level, first and foremost, you must have a country.
"If we don't have a country, there will be no office to hold; whether it is the office of the President or office of the Vice President or office of the minister or whatever office, there must be Nigeria first.
"My position is that let us all collectively defend and protect this country and that is why I always feel bad when people make statements that expose Nigeria as if it is the worst country on earth.