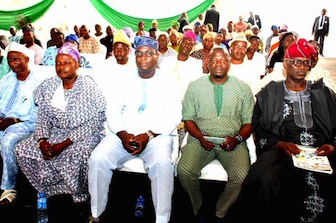 The President of Odua Cooperative Alliance (OCA), Asiwaju Adetokumbo Osisanya, has stated that President Goodluck Jonathan has improved the life of an average Nigerian, noting that the group was satisfied with the great transformation Jonathan has brought to the country.
Osisanya stated this during an interactive session with Jonathan at the State House, Marina, Lagos.
OCA, a South West Co-operative movement also urged the president to make CBN's N200billion SME fund more accessible.
"These are very visible in the agriculture, transportation, especially railways, jobs creation, respect of rule of law and organising free and fair elections."
He said the OCA, by the visit, wished to show appreciation to the President "for your great efforts at improving the quality of life of the average Nigerian" such as eliminating fuel scarcity and convening the national conference.
"By the national conference, you stood out as the most courageous and well-intended President we are blessed to have."
He requested Jonathan to make provision for the N200 billion National Cooperative Fund as provided in the National Cooperative policy of 2002 and to relax guidelines for access to CBN N200 billion SME fund.
The group also requested the administration to provide intervention fund for effective take off of the National Cooperative Transport Scheme, as well as favourable policy framework for members to access national mortgage for housing.
The group assured the president of massive support with their votes during the 2015 polls.
Jonathan while responding to the group promised to set up the first Co-operative University in the country to be cited in South West region of Nigeria.
The President, however, said he would set up a study group to examine how such a university functioned in Kenya to determine the various faculties and departments suitable for Nigeria.
He said the study group would also comprise members of OCA which made the request.
"The issue of university is that, you will nominate some people and we will send them to Kenya to go and really look at the setting up of the Cooperative University.