*A news insight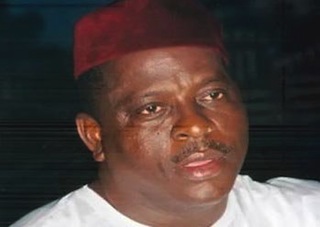 Make no mistake about it, President Goodluck Jonathan may have personal issues to grind with former leader Olusegun Obasanjo and in turn, Obasanjo has made no secret that he is not a fan of Jonathan's style of governance, especially with Boko Haram insurgency festering and corruption in government reaching monumental proportions.
But the man who inflicted the irreparable damage to the relationship and sent Obasanjo out of the Peoples Democratic Party yesterday is none other than America's most wanted Nigerian: Prince Buruji Kashamu.
In April 2012, Obasanjo had resigned his chairmanship of the party's Board of Trustees on account of his busy engagements outside the country. In December 2013, Obasanjo sent a critical letter, titled 'before it is too late' in which he chided Jonathan on how he had allowed the ship of state under his watch to wobble.
Of greatest concern to Obasanjo was the enthronement of Kashamu, as South West leader of the party. Obasanjo minced no words in registering his disapproval in the strongest of language:
"Putting a certified unashamed criminal wanted abroad to face justice and who has greatly contributed to corruption within the judiciary on a high-profile of politics as you and your aides have done with the man you enthrone as PDP Zonal leader in the South-West is the height of disservice to this country
Politically and height of insult to the people of South-West in general and members of PDP in that zone in particular."
Buruji fought back describing Obasanjo's attack as hypocritical, saying that the former leader had accepted him with open hands when he was waging his battle against the former Ogun State governor, Otunba Gbenga Daniel. And Jonathan also replied Obasanjo describing his attack as 'unwarranted', his comments 'self-serving'.
Buruji's hold on the South West PDP, rather than waning was even more consolidated in the months to come, such that in Ogun State PDP, Buruji became the Alpha and Omega of the party. President Obasanjo complained to the PDP's highest quarters, but no one listened to him.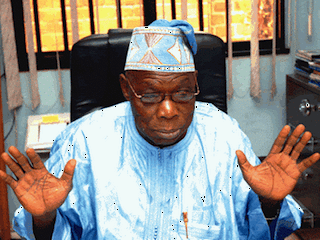 As the PDP imploded with the desertion of the party by five governors last year to join the political alliance of the All Progressives Congress, Obasanjo was being whispered as the motivator for the implosion, who encouraged the rebel governors to join the opposition.
In Ogun state, and many states of the Southwest, principal figures in the party associated with Obasanjo also joined the opposition APC. Obasanjo's handiwork writ large in the political moves and he too became distant from the party's affairs, choosing to operate mainly as a party member from his ward 11 in Abeokuta. To even add insult to injury, Buruji, using the court that Obasanjo accused Buruji of corrupting, stopped Obasanjo from selling his new autobiography, My Watch. The former Nigerian leader had never felt so insulted, so demeaned by a 'wanted criminal', who enjoys the backing of the state.
He finally severed his links with the party yesterday, after a series of attacks on Jonathan and the endorsement of the opposition candidate Muhammadu Buhari.
Buruji, the PDP bogeyman that Obasanjo despised is still wanted in the United States and the Americans are fighting an extradition case against him in a Federal Court in Abuja.
The drug trafficking case involving Buruji Kashamu, first blew open in March 1994, court documents show, when a suspected drug trafficker, Kary Hayes, landed at O'Hare International Airport in Chicago, Illinois on a flight from Zurich, Switzerland.
The suspect carried a suitcase containing approximately 14 pounds of heroin, according to Charles Ronald Norgle, the judge who presided over the Northern District Court of Illinois, Eastern Division in Chicago.
When security officials saw his luggage, they smelt a rat and upon further frisking, they arrested him.
With the hope of a lighter sentence, perhaps, Hayes began to sing like a bird by giving names of those involved in the illicit drug trade.
Apart from agreeing to cooperate, he revealed that he was a member of a syndicate that smuggle heroin into the United States.
The suspect, as the judge wrote, revealed the identity of several co-conspirators, "who named others, ultimately bringing down the entire conspiracy".
The US government eventually brought charges against 14 suspects, including Kashamu, who lived in Benin Republic at that time.
The suspects were Nicholas Jr Fillmore, two-count charge; Mark Benzer, three-count; Brian Christman, four-count; Edward Steinbeigle, five-count; Catherine Cleary Walters, six-count; Bary James Blow, seven-count; Michael Barnard Pudvah, eight-count; Ellen Furman Wolters, nine-count; Peter John Stebbins, 10-count; Chris Malomo, 11-count; Meredith Morford, 12-count; Shane Donaldson, 13-count; Piper Kerman, 14-count; Buruji Kashamu, 15-count.
While 11 among them pleaded guilty, the only one who went on trial was Stebbins.
His conviction came after seven of his co-defendants testified against him, wrote the judge.
"With respect to certain identification issues, one or more of the female co-defendants testified that they had engaged in personal sexual relations with Kashamu," wrote Justice Norgle, adding that the court sentenced them to prison terms of varying lengths.
Many of them have been released from custody after serving their sentences, while two, as the judge revealed, remain at large in the case. One of them, as the judge put it, is Kashamu. For this reason, the United States wants him extradited to come and face charges, a development that became raw material for Obasanjo's series of volleys against Jonathan, one, among other factors that has driven him out of the Peoples Democratic Party.
Culled from http://thenewsnigeria.com.ng/2015/02/20/kashamu-us-wanted-man-kicked-obasanjo-out-of-pdp/

Load more